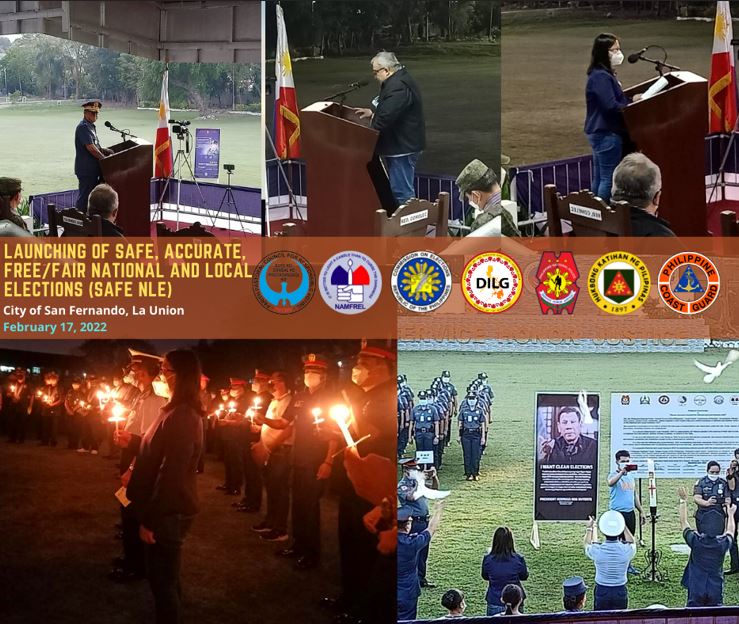 DILG R1 joins the S.A.F.E. NLE 2022 launching
February 17, 2022- The Department of the Interior and Local Government Regional Office I (DILG RO I) represented by Assistant Regional Director Agnes A. de Leon, CESO V and LGMED Chief Rhodora G. Soriano joined the Philippine National Police Regional Office I (PNP PRO1), Commission on Elections (COMELEC) Regional Office I, religious leaders, and other concerned stakeholders in the Launching of Safe, Accurate, Free/Fair National and Local Elections (SAFE NLE) 2022 with the theme "Ako ang Simula ng Pagbabago" at the PRO1 Grandstand, Camp BGen Oscar M Florendo, Parian, City of San Fernando, La Union.
"Let us continue our collaborative efforts by doing our parts as government agencies, non-government organizations, and community leaders to ensure a violent-free, secure, and peaceful May 2022 elections" said ARD de Leon in her message. She added that "It is not in numbers but in unity that our great strength lies." ARD de Leon emphasized the important role of each and everyone to have a SAFE NLE.
The activity aimed to promote and enjoin concerned agencies and stakeholders for a safe, accurate, free and fair elections this coming May 9, 2022. PMGen Rodolfo S. Azurin, Jr., the Director for Comptrollership of the PNP and at the same time the guest of honor and speaker, stressed that the PNP supports the call of President Rodrigo Roa Duterte for a clean election this year.
Making the event more meaningful and symbolic, aside from the Interfaith Prayer for NLE 2022, there were lighting of the SAFE candles and pinning of SAFE 2022 pin, manifesto signing, benediction of religious leaders, and the releasing of white doves.
The launching was participated by officials and personnel from the PNP, COMELEC, PCG, DILG, 702nd IB of PA, PPCRV, NAMFREL, and different religious organizations headed by Most Reverend Daniel Oca Presto, D.D., Bishop, Diocese of City of San Fernando, La Union; IMAM Zainal Macapundag, President Muslim Center, City of San Fernando, La Union; and Pastor Romeo B. Garcia, La Union Provincial President, Faith-based Advocacy Support Group. LGOO VII Rhodora G. Soriano