DILG R1 trains 43 LGUs to fast track BUB project implementation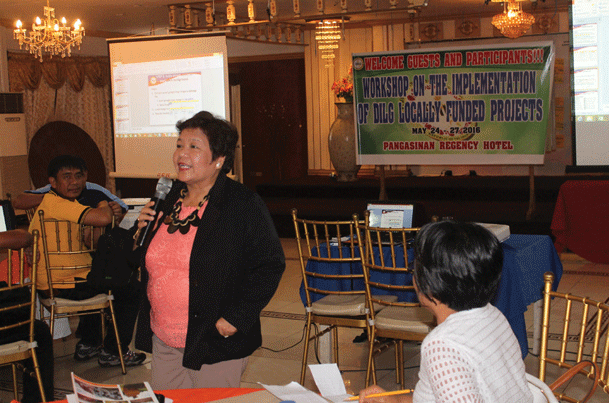 In keeping with its commitment to ensure compliance and implementation of Bottom- Up Budgeting (BuB) projects in local government units (LGUs), the Department of the Interior and Local Government Region 1 (DILG R1) trained 43 LGUs which are to receive their 2nd tranche of funds for BuB 2015 and those which are in the process of preparing documentary requirements for BuB 2016.
The training, which was conducted last May 25- 27, 2016 at the Regency Hotel, Calasiao, Pangasinan, aimed to enhance the skills of LGU- participants on the preparation of documentary requirements for the release of BuB funds. It was attended by Municipal Engineers or technical staff in- charge of BuB projects, Municipal Planning and Development Coordinators (MPDCs), Municipal Local Government Operations Officers, and other key personnel from DILG R1.
DILG Regional Director Julie J. Daquioag said that the Department recognizes the need for continuous capacity development for LGUs particularly in the preparation of project proposals, feasibility studies, detailed engineering designs, work plans, and other reportorial requirements.
"Preparation of documentary requirements is very important for the release of funds so that LGUs can start the construction of their priority anti- poverty projects and for our communities to feel the impact of these projects. We want to address delays in the release of funds due to submission of incomplete documentary Dir. Daquioag also added that the training was a venue for the DILG R1, through its Project Development and Management Unit (PDMU), to conduct a dialogue with the LGUs and thresh out issues in project implementation.
The Bottom- Up budgeting is a reform program that promotes transparency, participation, accountability and responsiveness. It is a continuing initiative of the national government in making the budgeting process more responsive to local needs. The Provision of Potable Water Supply, Construction of Evacuation Facilities, Flood Control, Seawalls, Drainage Canals, Foot Bridges and purchase of disaster risk reduction and management (DRRM) equipment are the DILG- BuB projects being implemented in the LGUs.