DILG R1 revisits Operation Listo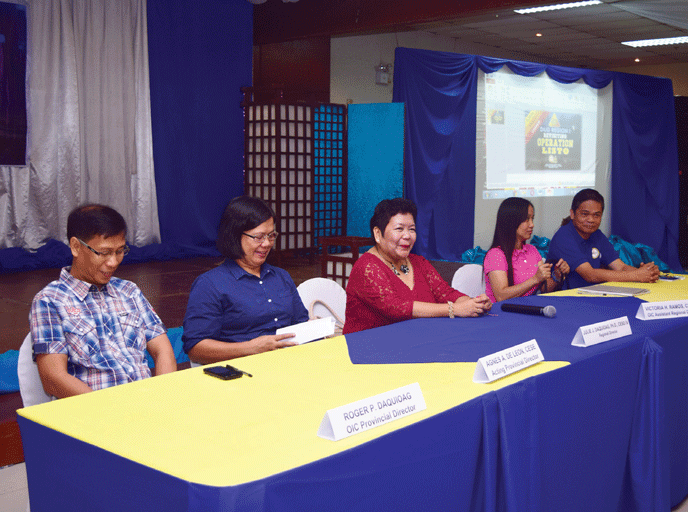 In its efforts to strengthen the capacities of its key personnel in the performance of their roles and functions during typhoons, the Department of the Interior and Local Government Region 1 (DILG R1) conducted "Revisiting the Operation Listo" last February 18, 2016 at Oasis Country Resort, City of San Fernando, La Union.
The activity emphasized the: (1) roles and responsibilities of local government units (LGUs) and DILG Officers whenever a typhoon hits the Region; (2) Critical Preparedness Actions during Alpha, Bravo, and Charlie alert levels; (3) Disaster Preparedness Protocols; (4) functions of DILG Officers during the activation of the Operation Center (OPCEN) and (5) Standard Reporting Template: Initial, Situational Reports and Final Report.
A total of one hundred sixty (160) participants composed of Regional Training Management and Facilitators, Secretariat Support and Staff, Provincial Directors, Program Managers, Cluster Leaders, Provincial DRRM Focal Persons and C/MLGOOs from the four (4) provinces of the region – La Union, Ilocos Sur, Ilocos Norte and Pangasinan attended the one-day activity.
The Operation Listo is an advocacy program that aims to build and/or strengthen the alertness and readiness of the LGUs in responding to disasters. The preparedness actions of the LGUs are contained in its three (3) manuals, namely: Checklist of Early Preparedness for Mayors, Checklist of Minimum Critical Preparedness for Mayors, and Checklist of City / Municipal Local Government Operations Officers, Chiefs of Police, and Fire Marshalls.
The Operation Listo was launched in the Region last 2015 through the conduct of the Regional Orientation of the LGU Disaster Preparedness Manuals, Provincial Convergence Action Planning, Disaster Preparedness Dialogue, and the Wemboree.