Details

Written by

DILG Region I

Category: Uncategorised
Hits: 12

ALL YOU NEED TO KNOW ABOUT THE 2023 NATIONAL WOMEN'S MONTH | CLICK HERE
PLEASE CLICK HERE TO SEE SCHEDULES FOR THE 2023 GAD WEBINARF SERIES
Details

Written by

DILG Region I

Category: Uncategorised
Hits: 189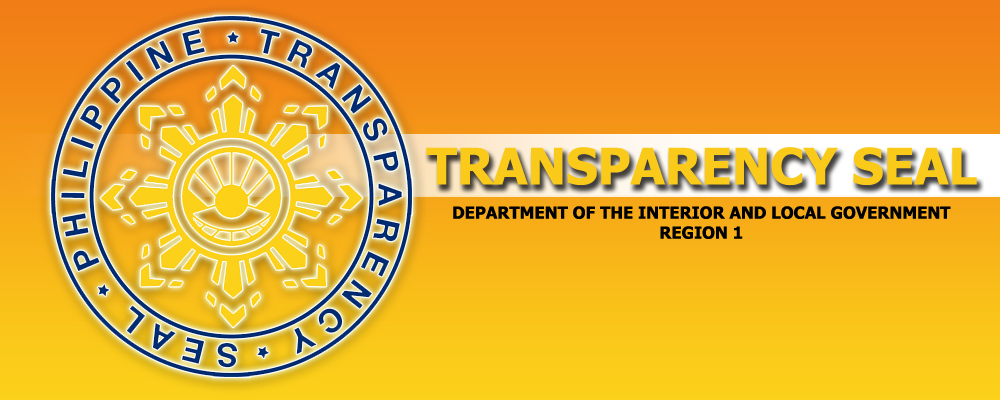 DILG Region I Disclosures Compliance with Sec. 93 (Transparency Seal) R.A. No. 10155 (General Appropriations Act FY 2012)
1. The agency's mandates and functions, names of its officials with their position and designation, and contact information
a. DILG Region 1 Executive Profile
b. DILG Region 1 Citizens' Charter
d. Vision, Mission and Mandate

f. Key Officials, designations and contact information
2. Annual Reports
A. Annual Financial Reports
a. Statement of Appropriations, Allotments, Obligations, Disbursements and Balances (SAAOBDB) FAR No.1 as of December 2014
Annual Physical Report of Operations / Physical Plan - BAR No. 1 as of December 2014
b. Statement of Appropriations, Allotments, Obligations, Disbursements and Balances (SAAOBDB) FAR No.1 as of December 2015
Annual Physical Report of Operations / Physical Plan - BAR No. 1 as of December 2015
c. Statement of Appropriations, Allotments, Obligations, Disbursements and Balances (SAAOBDB) FAR No.1 as of December 2016
Annual Physical Report of Operations / Physical Plan - BAR No. 1 as of December 2016
d. Statement of Appropriations, Allotments, Obligations, Disbursements and Balances (SAAOBDB) FAR No.1 as of December 2017
Annual Physical Report of Operations / Physical Plan - BAR No. 1 as of December 2017
e. Statement of Appropriations, Allotments, Obligations, Disbursements and Balances (SAAOBDB) FAR No.1 as of December 2018
Annual Physical Report of Operations / Physical Plan - BAR No. 1 as of December 2018
B. Narrative Reports
a. Region 1 Annual Report 2009
b. Region 1 Annual Report 2010
c. Region 1 Annual Report 2011
d. Region 1 Annual Report 2012
e. Region 1 Annual Report 2013
f. Region 1 Annual Report 2014
g. Region 1 Annual Report 2015
h. Region 1 Annual Report 2016
i. Region 1 Annual Report 2017
j. Region 1 Narrative Report 2018 (1st Semester)
k. Region 1 Narrative Report 2018 (2nd Semester)
l. Region 1 Annual Report 2019
m. Region 1 Annual Report 2020
C. Statement of Allotment, Obligations and Balances
a. FY 2010
b. FY 2011
c. FY 2012
d. FY 2013
e. FY 2014
f. FY 2015
g. FY 2016
h. FY 2017
h. FY 2018
i. FY 2019
i. FY 2020
j. FY 2021
k. FY 2022
D. Disbursement
a. FY 2012 - January - September 2012
b. FY 2012 - October - December 2012
c. FY 2013
d. FY 2014
e. FY 2015
f. FY 2016
g. FY 2017
h. FY 2018
i. FY 2019
j. FY 2020
j. FY 2021
E. Physical and Financial Plan
F. Cash Program
a. FY 2010
b. FY 2011
c. FY 2012
d. FY 2013
e. FY 2014
f. FY 2015
g. FY 2016
h. FY 2017
F. Budget and Financial Accountability Reports
a. FY 2021
3. DILG Region 1 Approved Budgets and Corresponding Targets
· DILG Region 1 Annual Budget 2010-2012
· DILG Region 1 Annual Budget 2013
· DILG Region 1 Annual Budget 2014
· DILG Region 1 Annual Budget 2015
· DILG Region 1 Final OPB CY 2010
· DILG Region 1 Final OPB CY 2011
· DILG Region 1 Final OPB CY 2012
· DILG Region 1 Final OPB CY 2013
· DILG Region 1 Final OPB CY 2014
· DILG Region 1 Final OPB CY 2015
· DILG Region 1 Final OPB CY 2016
· DILG Region 1 Final OPB CY 2017
· DILG Region 1 Budget for FY 2018
· DILG Region 1 GAA performance targets for FY 2018
4. Major programs and projects categorized in accordance with the five key results areas under E.O. No. 43, s. 2011
· Major Programs and Projects CY 2012
· Major Programs and Projects CY 2013
· Major Programs and Projects CY 2014
· Major Programs and Projects CY 2015-2016
· Major Programs and Projects CY 2017
· Major Programs and Projects CY 2018
5. The program/projects beneficiaries as identified in the applicable special provisions
· Local Government Support Fund-Assistance to Municipalities Detailed Project Status as of February 10, 2018
· 2016 Status of DILG Region I Projects BUB, SALINTUBIG and PCF
· 2015 Status of Locally Funded-Project
· Performance Challenge Fund as of August 2015
· 2014 Status of DILG Projects - PCF, GPBP, SALINTUBIG
· Sagana at Ligtas na Tubig sa Lahat
6. Status of implementation and program/project evaluation and/or assessment reports
· DILG Region 2012 1st Semester Statistical Report
· DILG Region 2012 2nd Semester Statistical Report
· DILG Region 2013 Statistical Report
· DILG Region 2014 Statistical Report
· DILG Region 2015 Statistical Report
· DILG Region 2016 Statistical Report
· DILG Region 2017 Statistical Report
· DILG Region 2018 Statistical Report
7. Annual Procurement Plan, Contracts awarded and the name of contractors/suppliers/consultants (2011 & 2012)
· Annual Procurement Plan
Ø APP 2011
Ø APP 2012
Ø APP 2013
Ø APP 2014
Ø APP 2015
Ø APP 2016
Ø APP 2018 Commonly-Used Supplies and Equipment (CSE)
Ø APP 2018
Ø APP 2019 NON-CSE for CY2019 OF DILG REGIONAL OFFICE 1 for PBB
Ø APP 2019 CSE for CY2019 OF DILG REGIONAL OFFICE 1 for PBB
Ø APP 2020 CSE for CY2020 OF DILG REGIONAL OFFICE 1 for PBB

Ø APP 2020 NON-CSE for CY2020 OF DILG REGIONAL OFFICE 1 for PBB

Ø DILG REGION 1 INDICATIVE ANNUAL PROCUREMENT PLAN FOR CY 2020
Ø APP 2020
Ø DILG REGION 1 INDICATIVE ANNUAL PROCUREMENT PLAN FOR CY 2021
Ø APP 2021 CSE for CY2021 OF DILG REGIONAL OFFICE 1 for PBB

Ø APP 2021

Ø APP CSE for CY 2022 OF DILG REGION 1 FOR PBB
Ø DILG R1 Indicative Annual Procurement Plan (APP) FY 2022
Ø APP 2022
Ø INDICATIVE FY 2023 APP-NONCSE
Supplemental Annual Procurement Plan
2022
Ø Supplemental APP Construction of DILG Ilocos Norte PO
2020
Ø Supplemental APP Medical Supplies for Contact Tracer 2nd Month Requirement
Ø Supplemental APP Printing of IEC Materials
2019
Contracts Awarded
Ø 2011
Ø 2012
Ø 2013
Ø 2014
Ø 2015
Ø 2016
Ø 2017
Ø 2018
Procurement Monitoring Report

OTHER IMPORTANT PBB REQUIREMENTS
Certification of Undeitaking/Non-Undertaking of Early ProcurementCertification of Undeitaking/Non-Undertaking of Early ProcurementActivities (EPA)
DILG People's Freedom of Information (FOI)
2019 FOI Report

2017-2019 FOI Report

DILG People's Freedom of Information (FOI) Manual
Details

Written by

DILG Region I

Category: Uncategorised
Hits: 376
BUKAS NA! USAPANG NEGOSYO AT MICRO, SMALL, & MEDIUM ENTERPRISES (MSME).
Sa pangunguna ng DILG Region I, DBM Region 1, at Philippine Information Agency Region 1, mapaguusapan ang mga iba't ibang suporta ng gobyerno para sa mga MSME at kung paano ito makakatulong para mapalago ang kanilang mga negosyo.
o bisitahin ang Dagyaw Registration Portal
Details

Written by

DILG Region I

Category: Uncategorised
Hits: 369
DILG R1 PUBLISHED NEW BOOK
This book is a product of collaboration with Multi-Stakeholder Advisory Committee (MSAC) partners, St. Louis College, San Fernando, La Union and Municipality of Bauang, La Union, funded by DILG Bureau of Local Government Supervision (BLGS) through the Technical Assistance Program (TAP) for Local Resource Institutes.
(LGOO II Jeslen B. Tesoro)
Details

Written by

DILG Region I

Category: Uncategorised
Hits: 548
Awardees of the 2022 Seal of Good Local Governance (SGLG)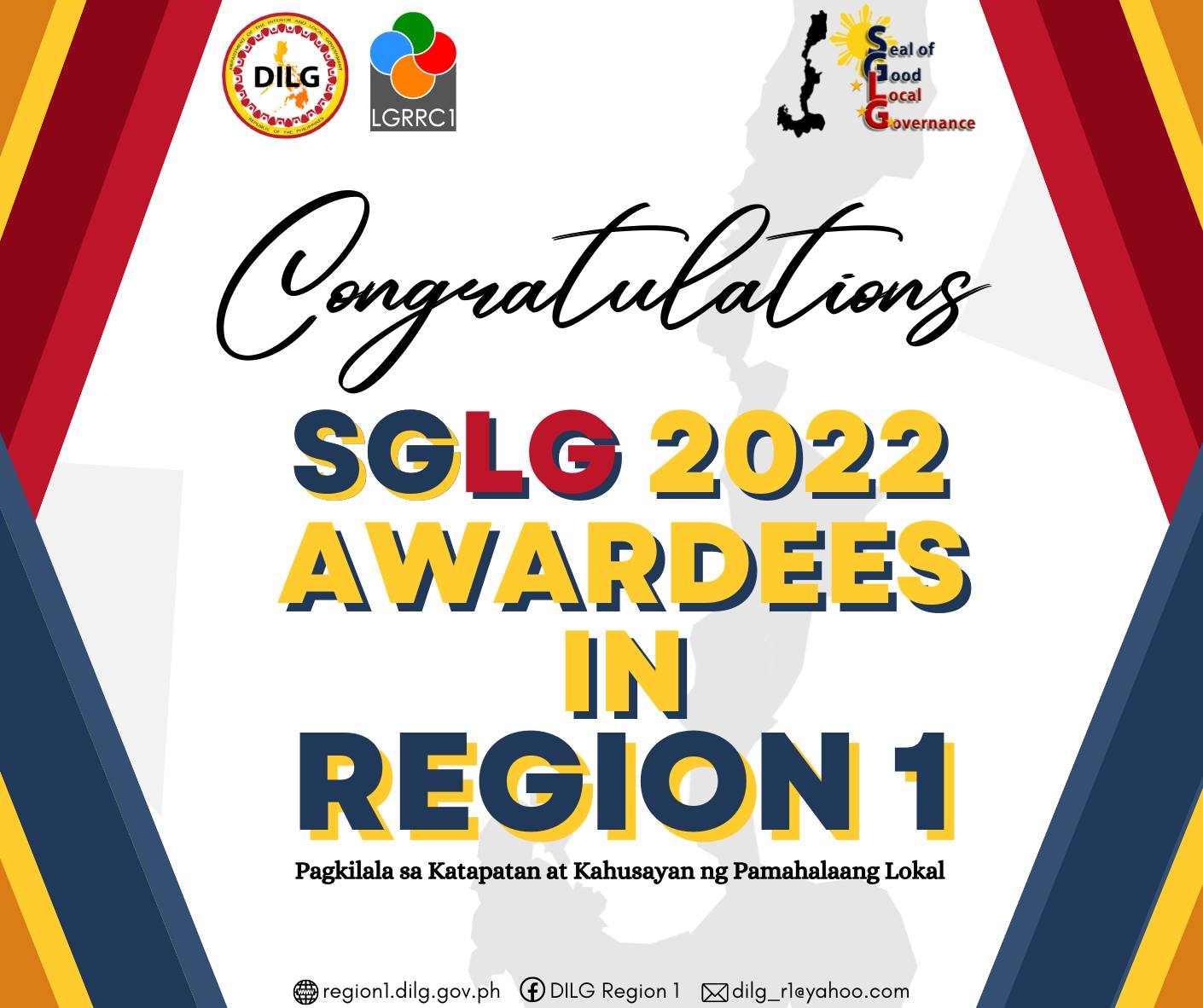 Awardees of the 2022 Seal of Good Local Governance (SGLG)