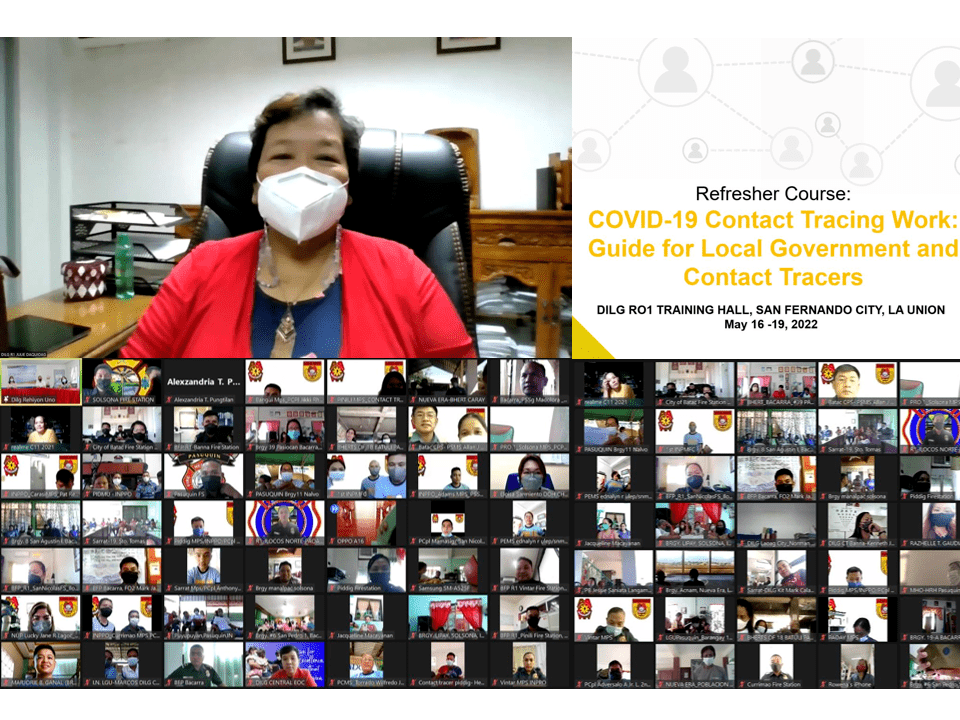 DILG R1 conducted Refresher Course on COVID-19 Contact Tracing Work
DILG Region I conducted the first batch of the Refresher Course on COVID-19 Contact Tracing Work: Guide for Local Government and Contact Tracers on May 16, 2022.
The activity is in partnership with the Department of Health (DOH), Department of Science and Technology (DOST), and Office of Civil Defense (OCD) and that aims to provide updates on the new policies and strategies of the government against COVID-19 to the Contact Tracers.
Regional Director Julie J. Daquioag, Ph.D, CESO III on her opening message that it is very important and crucial because we need to be always prepared due to the new variants of the SARSCov-2 and Contact Tracing is one of the effective strategies to stop the transmission.
The said activity is being attended by the CMLGOOs, DILG-DOLE-LGU-hired Contact Tracers, PNP and BFP Officers acting as Contact Tracers, Local Epidemiology and Surveillance Units (LESUs), Barangay Health Emergency Response Team (BHERTS), and LGU volunteers of the Province of Ilocos Sur.
The activity will be in four (4) batches, Batch 2 will be Ilocos Sur scheduled on May 17, Batch 3 will be La Union on May 18, 2022 and the Batch 3 is Pangasinan on May 19, 2022.
By: LGOO IV Liza May A. Colisao