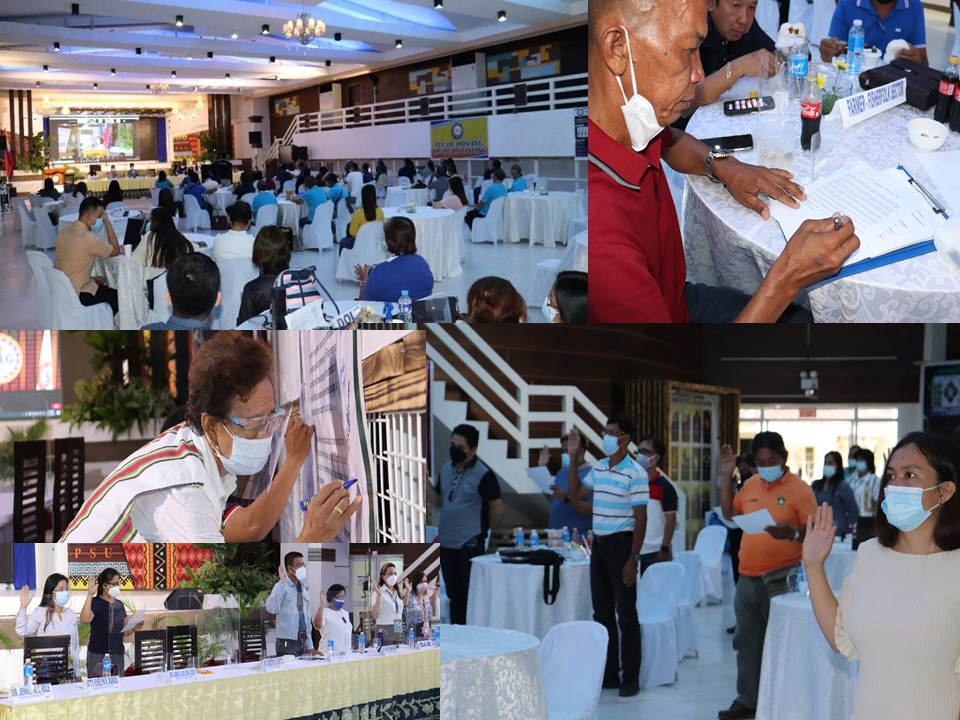 REGIONAL TASK FORCE 1 – ELCAC, CONDUCTED A REGIONAL CONFERENCE FOR PEACE AND DEVELOPMENT
LINGAYEN, PANGASINAN – The Regional Task Force 1-ELCAC, spearheaded by NTF-ELCAC SUCBEM Cluster, conducted the Ilocos leg for the series of Regional Conferences on Peace and Development (RCPD) on May 27, 2021 at Pangasinan State University Conference Hall, Lingayen Pangasinan. This activity was the first phase of the SONA Campaign Plan of the President.
The event was attended by representatives from various sectors of the community such as Indigenous Peoples (IP), Laborers, Farmers, Fisherfolks, Peasants, Women, and the Youth. It was conducted in a controlled and well-managed face-to-face conference with standard health protocols being employed throughout the activity.
The activity intends to provide a framework for advocacy of legitimate sectoral issues and concerns, validate governance and development gaps of communities and identify needed government interventions to address them. This also provided an avenue for the sectors to lobby sectors' social reform agenda and for government agencies with sectoral mandates to regain its role as champion for protection and promotion of peoples' right and welfare.
The activity was graced virtually by CORDS-1/NSA Secretary Hermogenes C. Esperon, Jr... In his opening message, he reiterated that the RCPD is the first of the three phases of the SONA Campaign Plan and that inputs of the sectoral participants are vital in crafting the Peace and Development Agenda that shall be used as reference for the formulation of policy recommendations to address the gaps in governance.
Moreover, ARD Agnes A. De Leon, representing the DILG, sets the tone by discussing thoroughly the RCPD, with its objectives and goal setting, in relation to the pre-SONA Campaign Plan.
The activity was successfully implemented through efforts and collaboration of member-agencies of the SUCBEM Cluster led by DILG. Also present were NGA RDs, ARDs, and representatives – DA, DAR, BFAR, DSWD, NAPC, NCIP, DEPED, & CHED.
Along with attendees from the national government agencies, all sectoral representatives took an oath by reading the manifesto – expressing their full commitment to the shared advocacies towards peace and development. This commitment was sealed by a ceremonial tarpaulin signing.
In conclusion, DILG Undersecretary Epimaco V. Densing III, who also joined thru Zoom platform, gave his closing remarks quoting that – insurgency is not a sole responsibility of the government, rather a shared responsibility of the whole nation.
-LGOO V EDITHA S. CASTILLO and DMO III ALDRIN D. NOLASCO