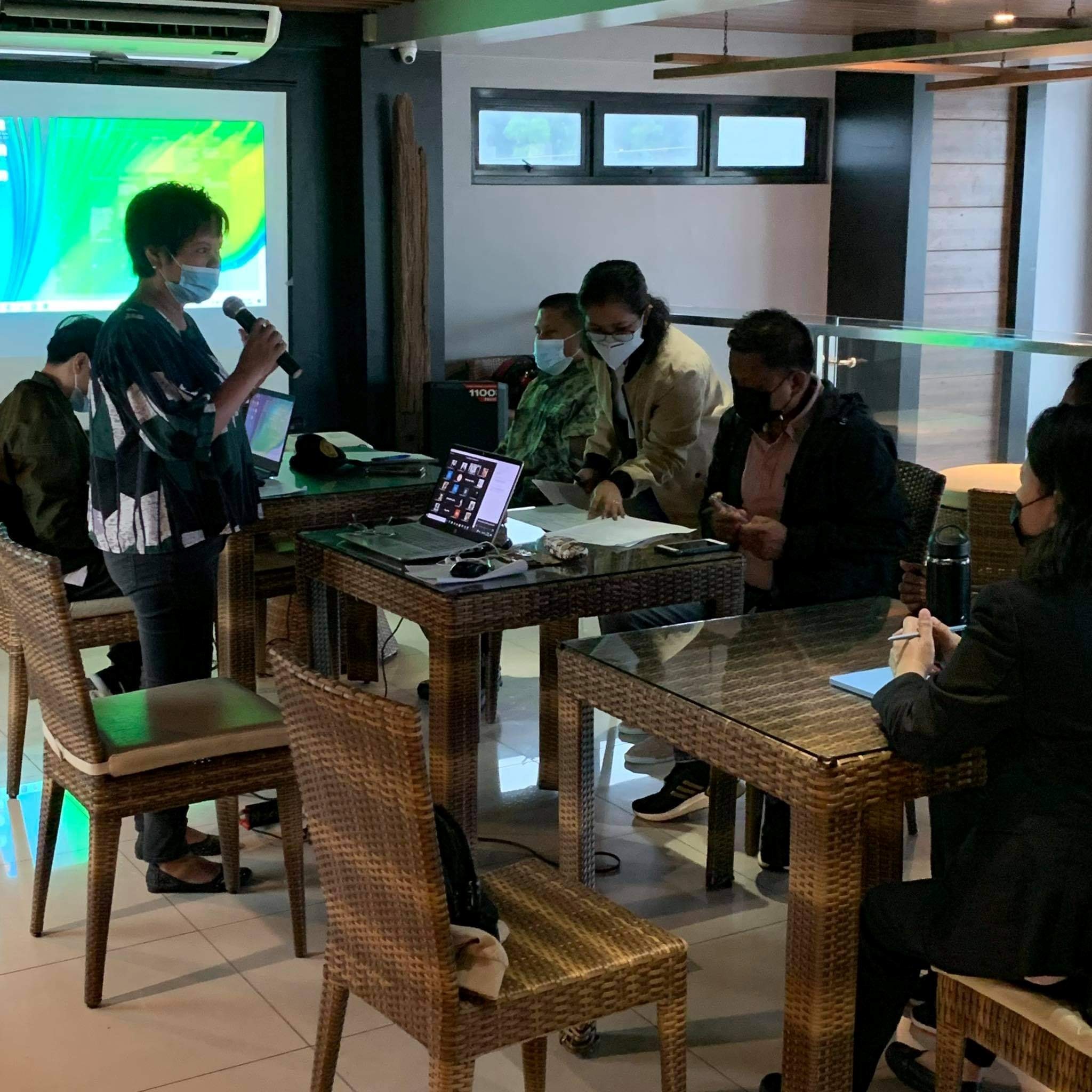 The Anti-Drug Abuse Council (ADAC) Ilocos Sur Provincial Audit Team conducts Annual Performance Audit
Bantay, Ilocos Sur – Ensuring the continued improvement and performance of local anti-drug abuse councils (ADACs) in the campaign against illegal drugs in the province, the Department of the Interior and Local Government (DILG Ilocos Sur) recently conducted a two-day Anti-Drug Abuse Council (ADAC) Performance Audit (AY 2020) covering two (2) Cities and thirty-two (32) Municipalities on July 22-23, 2021 at La Jenns Hotel and Resto Grill, Bantay, Ilocos Sur.
The Provincial Audit team is led by the Department of the Interior and Local Government (DILG) and composed of representatives from the Philippine Drug Enforcement Agency (PDEA), Philippine National Police (PNP), and Civil Society Organizations (CSOs).
As stated on DILG Memorandum Circular No. 117, series of 2019, the ADAC performance audit aims to assess the functionality and effectiveness of local ADACs based on existing policies, determine their innovations, and best practices, and create a platform for evaluation, assessment, and recognition.
In attendance during the said activity were DILG Ilocos Sur Provincial Director Randy S. Dela Rosa, Cluster Leader Mila P. Madriaga, Program Manager Cesarieta R. Pestaño and staff, PDEA Provincial Officer Anabel F. Cabarles, PEMS Richard Pajo of ISPPO, and CSO Representatives - Provincial Federation of BHW President Zenaida P. Pulido, Rex Dexter Quilala and Primitiva R. Ragon, respectively.
By: LGOO II Jaemee Erleen T. Espejo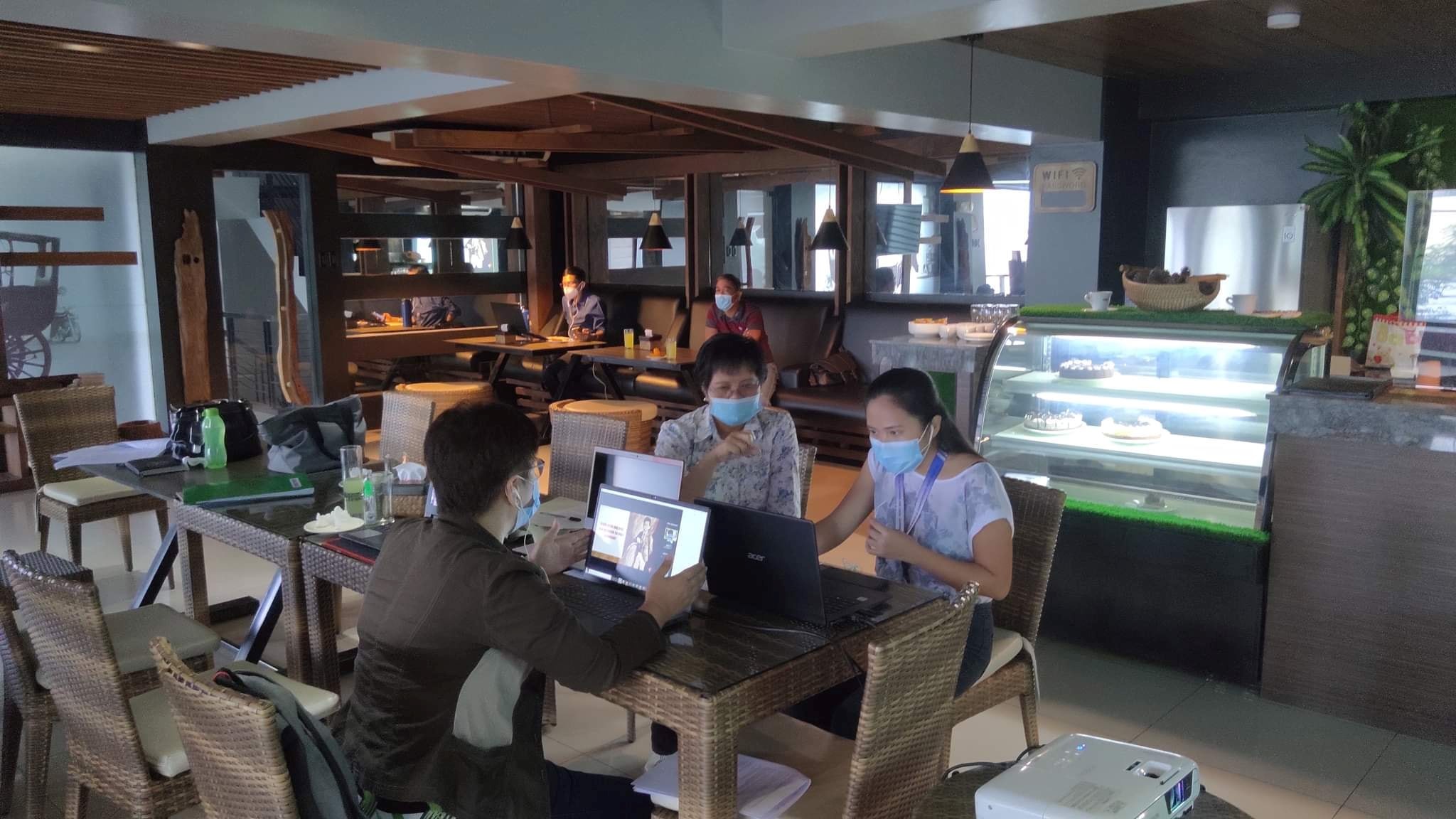 DILG Ilocos Sur spearheads SDEC Roll-out to LGUs
Bantay, Ilocos Sur - The Department of the Interior and Local Government (DILG Ilocos Sur) with the Provincial Government of Ilocos Sur through the Provincial Social Welfare and Development Office (PSWDO) spearheaded the Roll-out Orientation of the Establishment and Operation of "Special Drug Education Centers (SDEC) for Out-of-School Youth and Street Children", on 21 July 2021 at La Jenns Hotel and Resto Grill, Bantay, Ilocos Sur.
Taking part in the activity were DILG Ilocos Sur Provincial Director Randy S. Dela Rosa, Cluster Leader Mila P. Madriaga, Program Manager Cesarieta R. Pestaño and staff, Social Welfare Officer IV Fe G. Sarmiento of DSWD Field Office I, Social Welfare Officer II Irene Tabarangao, and PPSK President Janina Tabios, respectively.
The said activity was also virtually attended by 34 LGUs represented by C/MSWDOs, C/MLGOOs, C/MHOs, PNP – Women and Children Protection Desk Officers, and Sangguniang Kabataan (SK) Federation President.
Among the topics covered during the roll-out and were all discussed by SWO IV Fe G. Sarmiento, Guest Speaker are SDEC Policy Content and Guidelines; Establishment, Modes, General Features, and Organizational Structure of SDECs; Funding; Personnel Complement; Human Resource, Program, Records and Data, and Case Management; Programs and Services; Physical Structures; and Safety and Guide in the preparation of Manual Operations.
SDEC is a community-based facility, which serves as a venue in promoting preventive and developmental services for the OSY and street children. It will promote drug abuse prevention initiatives with the goal of educating OSY and street children about the harmful effects of drug misuse, thereby contributing to their overall development as self-sufficient and socially responsible members of society.
By: LGOO II Jaemee Erleen T. Espejo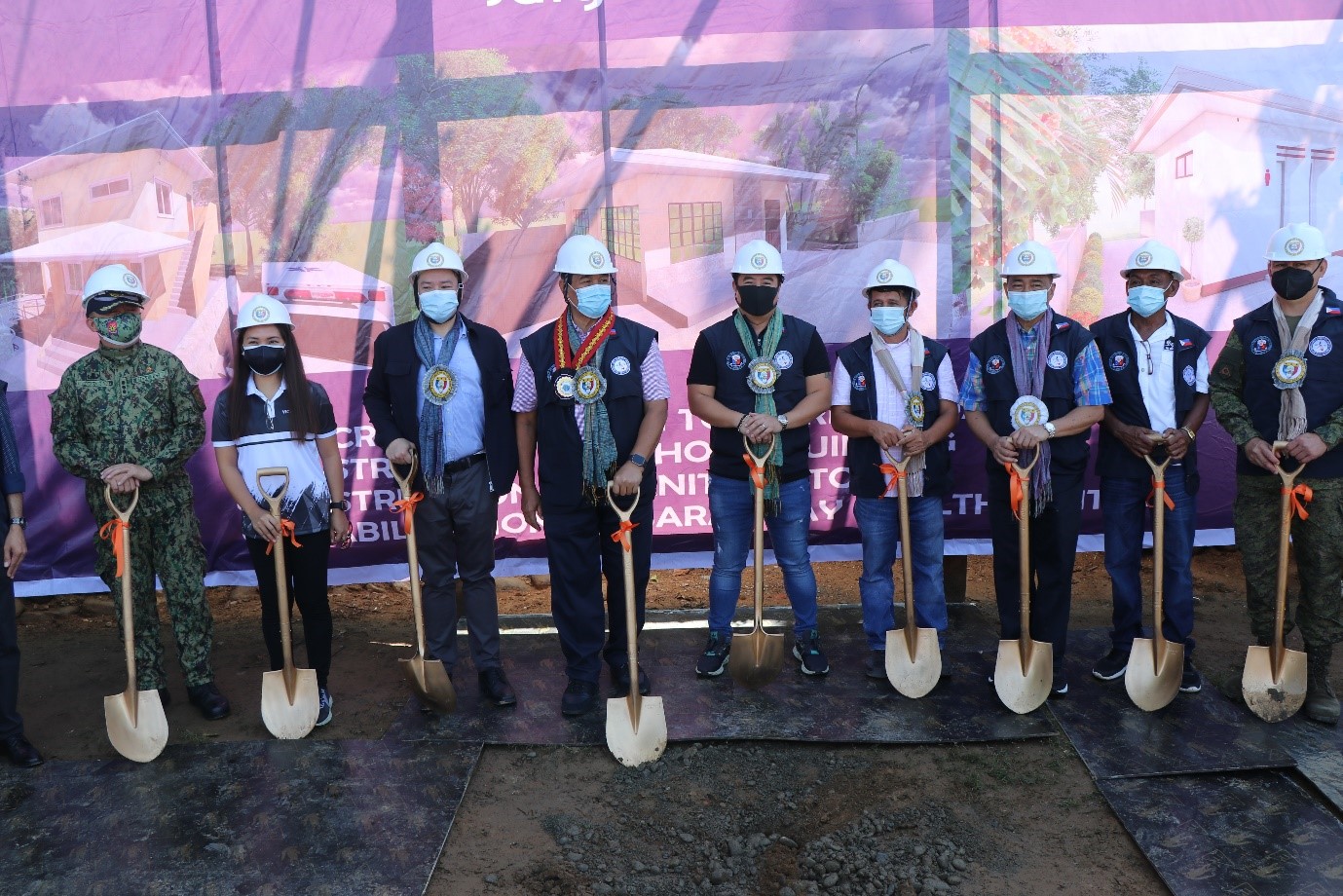 ILOCOS SUR HELD SBDP PROJECTS GROUNDBREAKING CEREMONIES - THE FIRST IN REGION 1
JULY 16, 2021 -The National Task Force to End Local Communist Armed Conflict (NTF-ELCAC) and the Department of the Interior and Local Government (DILG) held the groundbreaking of the 20-million-peso worth of various projects in Barangay Baluarte, Salcedo, Ilocos Sur, marking the activity as the first-ever project groundbreaking ceremony in Region 1 funded by the Local Government Support Fund – Support to Barangay Development Program (LGSF-SBDP) FY 2021 of the NTF-ELCAC.
The same groundbreaking ceremony was also held in Barangay Nagbettedan, Santo Domingo, Ilocos Sur which also received 20-million-peso worth of various SBDP projects.
NTF-ELCAC Vice Chair and National Security Adviser Hermogenes Esperon, Jr., Governor Ryan Luis V. Singson, DILG Ilocos Sur Provincial Director Randy S. Dela Rosa, DILG R1 LGMED Chief Rhodora Soriano, BGen Krishnamurti Mortela, and NSC Deputy Director General Vicente M. Agdamag spearheaded the said activities. The EO 70 Project Management Office Staff, other key officials and functionaries from the national, regional, provincial, and local levels were also present during the program.
"I am so proud that it is in only in Region 1 that we could now proudly say that we have dismantled the lawn guerilla front that is existing here", NTF-ELCAC Vice Chair Hermogenes Esperon, Jr. said.
Usec. Marlo L. Iringan, Undersecretary for Local Government extended his congratulations and message to the recipient-barangays virtually.
In his message, "Ang mga proyektong ito ay handog ng pamahalaan sa ating mga kababayan na nasa dalawang barangay, ang aming hiling ay ang mabilis at maayos na pagsasagwa ng mga proyektong ito upang sa gayon ay mapakinabangan na ang serbisyong maibibigay ng daan at school building na sisimulan ngayong araw. We can help end local communist armed conflict by winning the hearts and minds of the people through this packages that are responsive to the needs of our people".
DILG R1 Regional Director Julie J. Daquioag also shared the rationale of the SBDP via virtual platform.
The two insurgency-cleared barangays are among the 822 identified barangays in the entire country - and the only barangays in the region - to have received this national priority program of the government pursuant to EO 70 or the whole-of-nation approach in addressing the root causes of insurgencies and other armed conflicts through the delivery of various social development services.
The 20 Million Peso Funds are intended for the Construction of Farm-to-Market Roads, Rehabilitation of Barangay Health Centers, Construction of Public Toilets, Construction of School Buildings, Assistance to Indigent Individuals, and Livelihood and Technical-Vocational Trainings. These priority programs are all identified through the Retooled Community Support Program (RCSP).
Consistent with the Special Provision No. 4 of the LGSF-SBDP of the NTF-ELCAC in Republic Act (RA) No. 11518 or the FY 2021 General Appropriations Act (GAA), the DILG shall be responsible for the monitoring and evaluation of actual project implementation.
By: LGOO II Jaemee Erleen T. Espejo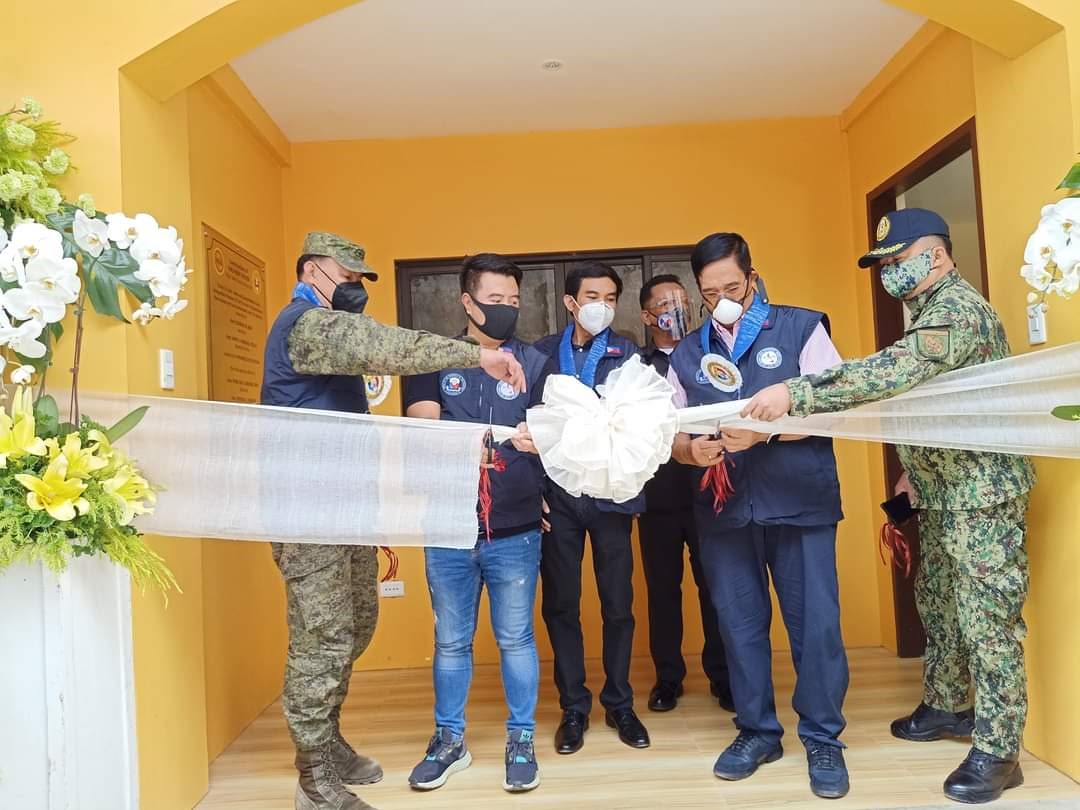 ILOCOS SUR HALFWAY HOUSE FOR FRs INAUGURATED
Bantay, Ilocos Sur - The 5Million Ilocos Sur Halfway House was successfully inaugurated on Friday, July 16, 2021. The facility is located within the Provincial Jail Compound, Barangay Taleb, Bantay, Ilocos Sur funded through the Enhance Comprehensive Local Integration Program (E-CLIP) assistance project of the Department of the Interior and Local Government (DILG) as part of the implementation of Executive Order No. 70, or the Ending Local Armed Conflict (ELCAC) program. It is the result of the convergence efforts between the DILG and the Provincial Government of Ilocos Sur (PGIS).
Leading the ceremonial ribbon cutting were NTF-ELCAC Vice Chair and National Security Adviser Hermogenes Esperon, Jr., Governor Ryan Luis V. Singson, DILG Ilocos Sur Provincial Director Randy S. Dela Rosa, BGen Krishnamurti Mortela, PCOL Wilson Doromal, and NSC Deputy Director General Vicente M. Agdamag, respectively
NSA Esperon, in his statement, called on the remaining members of the Communist Party of the Philippines - New People's Army (CPP-NPA) to surrender, abandoned armed-insurgency and return to the government folds.
PD Randy Dela Rosa expressed his sincerest gratitude to Governor Singson for allowing it to be built inside the provincial jail compound.
"Kami po sa DILG ay nagpapasalamat sa inyong lahat at naway ang Halfway House na ito ay magiging sagisag ng kapayapaan, kaunlaran at pag-asa sa Ilocos Sur," PD Dela Rosa said.
Governor Singson guaranteed that the PGIS will give its full support and assistance to these government programs.
The facility will be used as a temporary home for Former Rebels (FRs) as they undergo various processes and interventions under the E-CLIP. It is now fully equipped with basic amenities such as activity/lecture hall, dining and kitchen area, shower and comfort rooms, bedrooms for single and couple participants, and an administrative office for Provincial Social Welfare and Development Office (PSWDO) staff as house parents to the FRs.
The said facility is now operational and ready to accommodate rebel surrenderers as they reintegrate back to the mainstream society.
By: LGOO II Jaemee Erleen T. Espejo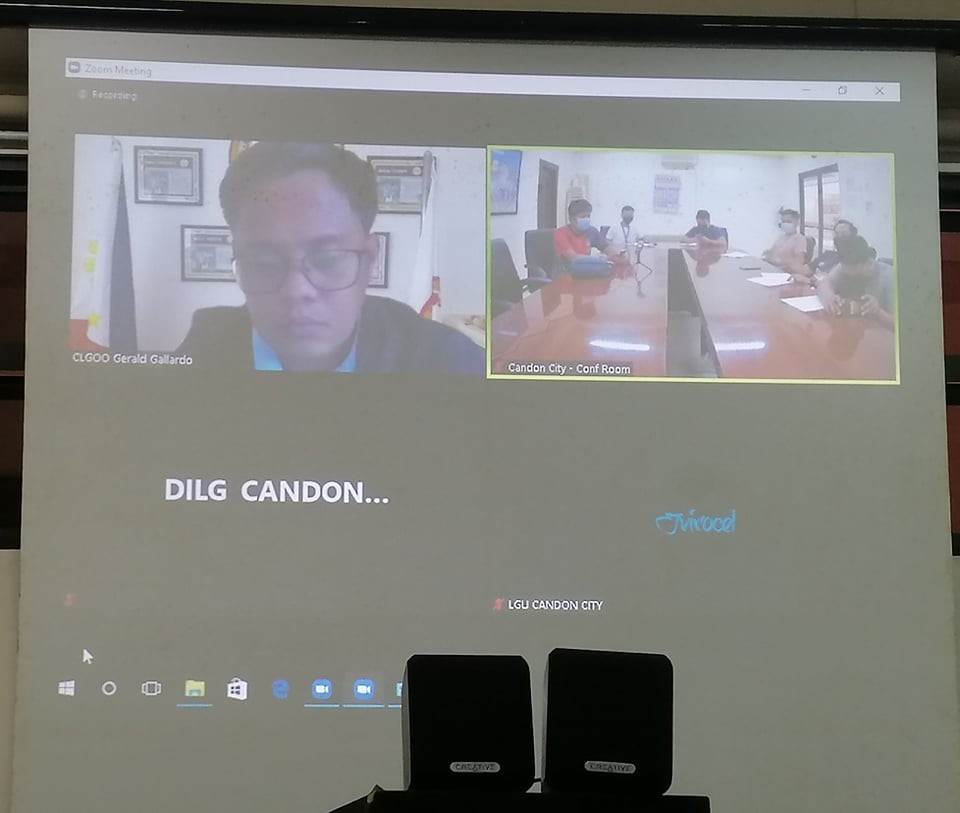 Orientation on Safety Seal Certification Program
DILG City Operations Office – City Local Government Operations Officer Gerald D. Gallardo spearheaded an orientation to Candon City Safety Marshals on the Safety Seal Certification Program on June 10, 2021, Thursday, at 2:00 PM via ZOOM Meeting platform. The City Safety Marshals were hired to assist the City Government in the enforcement of minimum health protocols in different business establishments and are under the supervision of the City Disaster Risk Reduction Management Officer, Engr. Florante Galang, who is likewise the program's Focal Person. In his introduction, CLGOO Gallardo emphasized the economic impact this seal implies to any establishment this may be seen.
The Safety Seal guarantees that an establishment is compliant to the minimum public health standard (MPHS) as the basic tool to help curb the spread of the COVID-19 pandemic. To institutionalize its implementation at the local level and formalize the organization of City and DILG Inspection and Certification Teams, an Executive Order was issued by City Mayor Ericson G. Singson, MD, pursuant to DOLE-DOH-DILG-DOT-DTI Joint Memorandum Circular No. 21-01, Series of 2021, and DILG Memorandum Circular 2021-053. LGOO II Rodante G. Macanas detailed the composition, powers and functions, and areas of assignment of the two (2) Inspection and Certification Teams which were organized as the Seal's Issuing Authority of the City. All other provisions, highlighting the requirements an establishment should observe to be eligible for the seal and the process of certification, and other related topics were thoroughly discussed by CLGOO Gallardo.
Also in attendance is Ms. Mary Jean Abrero, City Business Permits and Licensing Officer and her staff, who chairs the City Inspection and Certification Team. The orientation is a kickoff to yet anticipated series of discussion and was concluded after an open forum.
LGOO II RODANTE MACANAS­­­­­­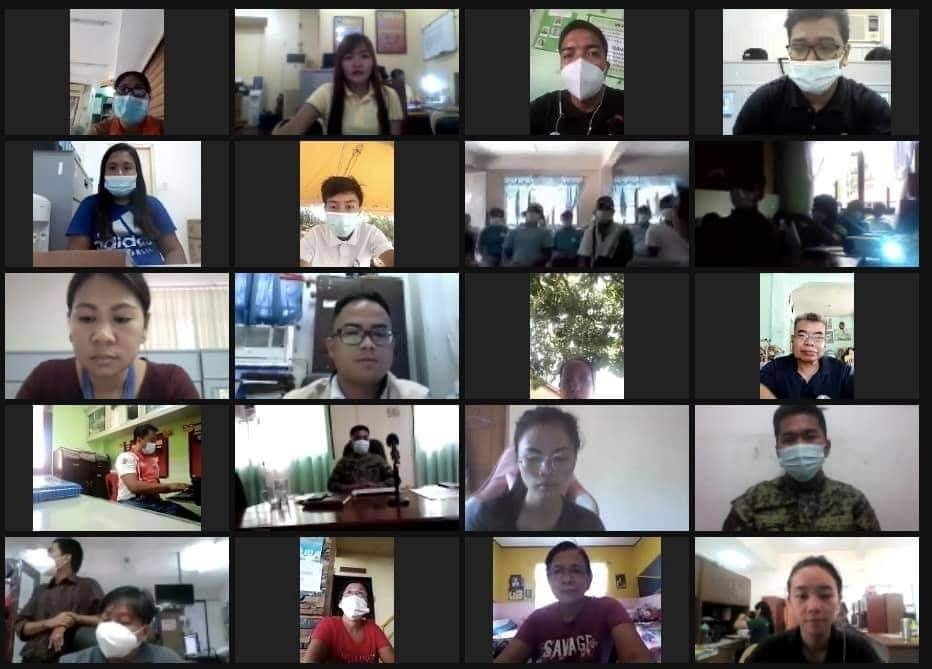 DILG Conducts NTF-ELCAC Barangay Levelling Session
Bantay, Ilocos Sur – The DILG-RO 1 led by RD James F. Fadrilan, CESO III spearheaded the conduct of the National Task Force, Joint Regional/Provincial Task Force to End Local Communists Armed Conflict (ELCAC) Barangay Levelling Session for Ilocos Sur on May 25, 2021 via zoom attended by about 2,000 Barangay Officials, IPMRs, CSOs of the 768 barangays.
The levelling session aims to revisit the various initiatives and undertakings by the JRTF in line with the EO 70 Whole-of-Nation and Convergence approach to address the root causes of insurgency and other armed conflict in the province by harmonizing the delivery of basic services and development packages facilitating inclusivity in active participation of all sectors in pursuit of the country's peace agenda.
National Security Adviser Sec. Hermogenes Esperon, Jr., in his message, gave assurance and made his call on the national agencies as members of the TF-ELCAC and the barangays to work as one to address the insurgency problems to pursue lasting peace and development. Gov. Ryan Luis V. Singson gave his inspirational message that his administration is doing its best in reaching out and implementing various programs and projects in response to the priority needs of the constituents, at the same time he expressed his gratitude to everyone as the Province was already declared free of armed groups.
For his part, IS-DILG PD Randy dela Rosa presented the outputs during the Regional Consultation for Peace and Development Program. Other participating agencies included: National Intelligence Coordinating Agency (NICA) who oriented the participants on the issues and problems on the operations of Communist Terror Group (CTG), Phil. Army (702nd IB & 81st IB) and IS-PNP for the updates on the peace and order situation in the province, NEDA, TESDA, NCIP, DOJ presented their significant accomplishments, programs, services and ways forward while the Provincial Government of Ilocos Sur thru the PSWDO presented the accomplishment of the PTF-ELCAC chaired by the Gov. Ryan Luis Singson. Philippine Information Agency RD Jenny Role served as moderator of the full day activity.
LGOO II Jaemee Erleen T. Espejo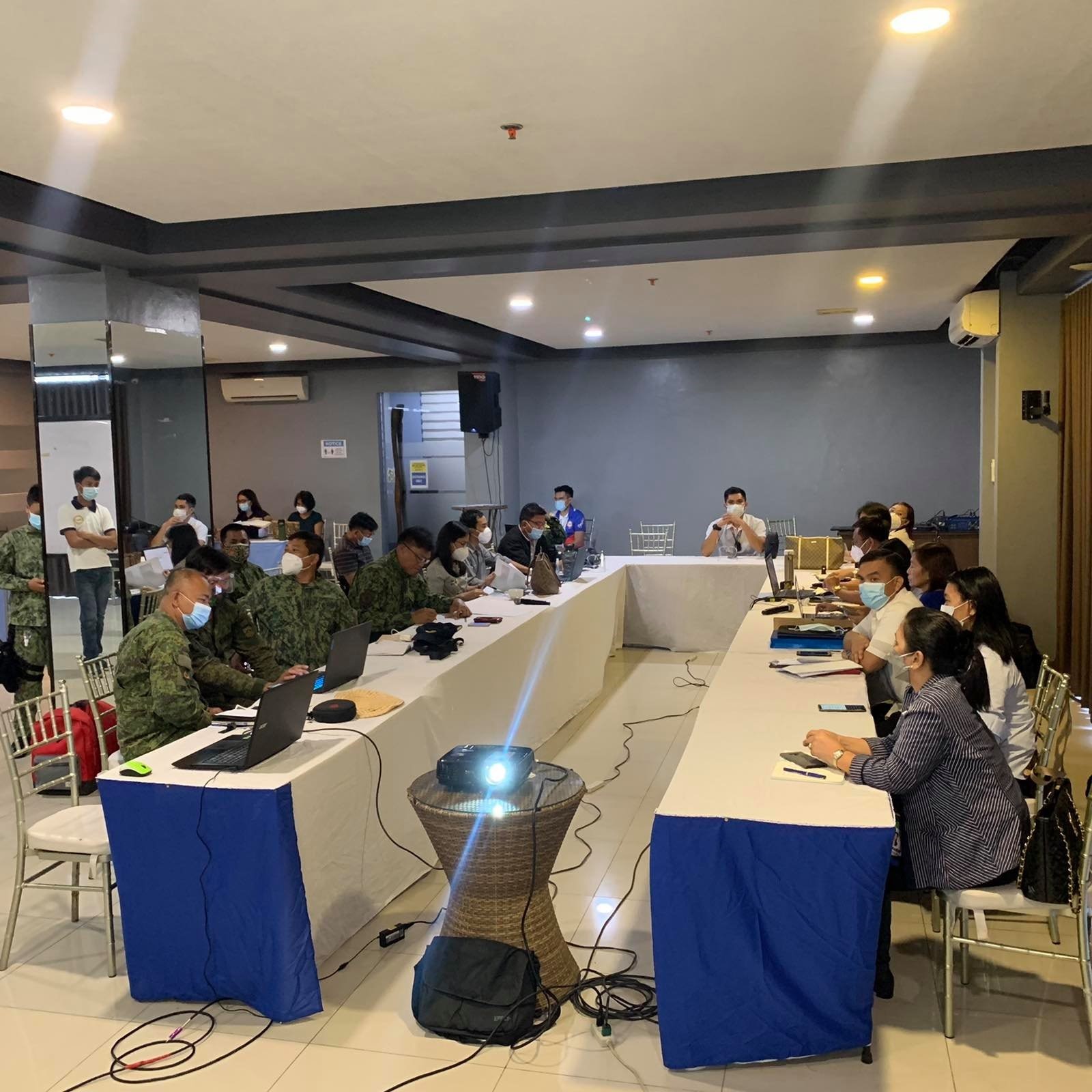 DILG Ilocos Sur Conducts RCSP Orientation for 38 Target Barangays
Bantay, Ilocos Sur – The DILG Provincial Office of Ilocos Sur headed by PD Randy S. de la Rosa conducted the Virtual Orientation on Retooled Community Support Program (RCSP) for the 38 target barangays of the 12 LGUs (Candon City, Burgos, Galimuyod, Nagbukel, Narvacan, Salcedo, Santiago, Sta. Cruz, Sta. Lucia, Sta. Maria, Sto. Domingo, and Suyo) on May 24, 2021 at La Jenns Hotel and Resto Grill. The participants were: Local Chief Executives (LCEs), C/MLGOOs, MPDOs, Punong Barangays and Barangay Secretaries.
The objectives of the said activity are a) to orient participants on RCSP Phases of Implementation; b) to apprise participants on the different programs and services of concerned agencies; and c) to prepare action plan for the implementation of RCSP in the target barangays.
Governor & PTF-ELCAC Chairman Hon. Ryan Luis V. Singson joined the activity and delivered his message to the participants,"Let us work together to make Ilocos Sur a peaceful province".
Line agencies who participated in the Orientation included TESDA, DTI, DOLE, DSWD, DAR, NCIP, DENR, and DA and each presented and discussed their respective programs offerings and services related to RCSP.
LGOO II Jaemee Erleen T. Espejo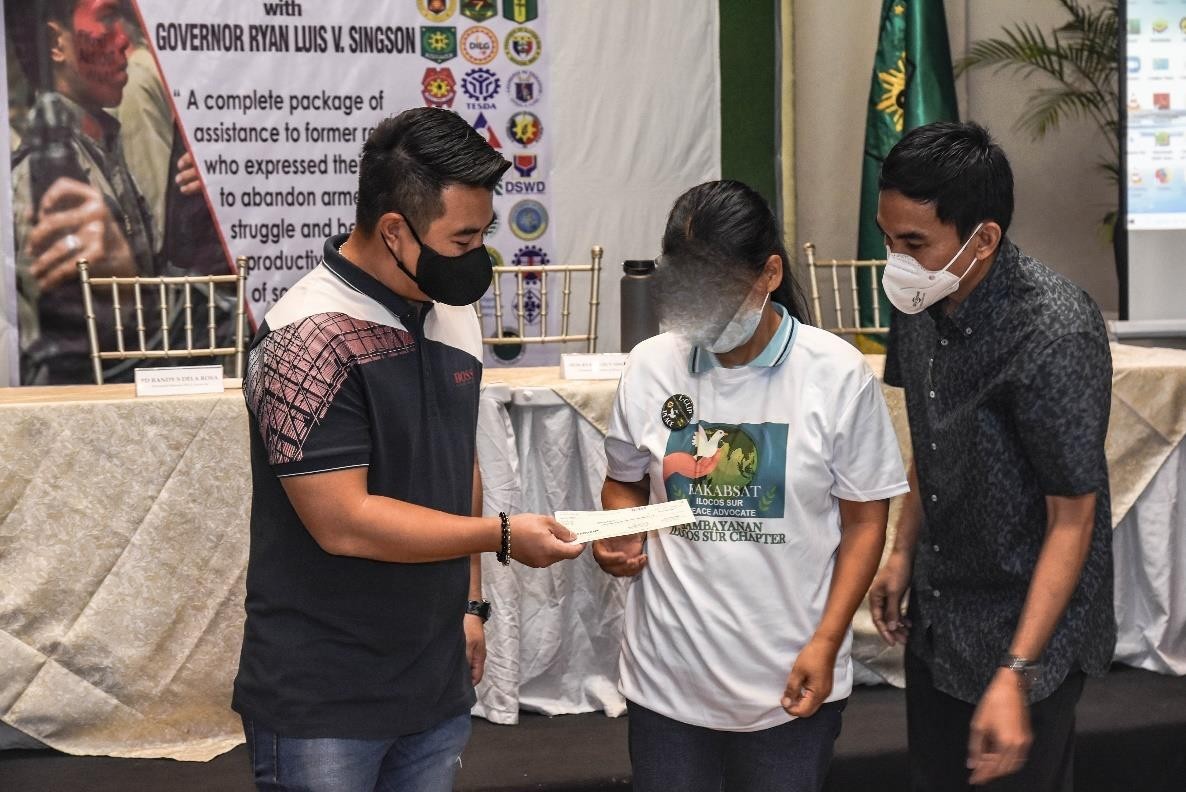 1.436 MILLION PESOS AWARDED TO 11 FORMER REBELS (FRs) UNDER THE ENHANCED COMPREHENSIVE LOCAL INTEGRATION PROGRAM (ECLIP)
Bantay, Ilocos Sur – A total of eleven former rebels (9-Militia ng Bayan; 2- Regular NPAs) who surrendered in the Province of Ilocos Sur received their respective financial assistance during the E-CLIP Awarding Ceremonies held on May 20, 2021 at Mel Sol's Inn & Resort. Each of the recipients was awarded with P15,000 immediate assistance, while additional P50,000 livelihood assistance was awarded to regular NPA members and firearm remuneration to those with surrendered/ turned-over firearms. Reintegration assistance was also awarded to the Unit where the former rebels surrendered. A total amount of P 1,436,000 was awarded to the recipients.
The ECLIP is one of the flagship programs of President Rodrigo Roa Duterte that seeks to address social healing and national unity toward the higher objective of having just and lasting peace. It is one of the major interventions to provide social equity to former members of the CPP-NPA-NDF and the Militia ng Bayan to reintegrate them into mainstream society.
Governor & ECLIP Committee Chairman Hon. Ryan Luis V. Singson and joined by DILG-Ilocos Sur PD Randy S. Dela Rosa, LTC Rodrigo A. Mariñas, Jr, Commanding Officer, 81st IB, 7ID, PA, and PLTCOL Simeon G. Damolkis, Ilocos Sur Police Provincial Office awarded the cheques to the 11 recipients.
In his message, DILG Ilocos Sur Provincial Director Randy S. Dela Rosa, CESE emphasized that the program aims to encourage rebel members of CPP-NPA-NDF and Militia ng Bayan to reintegrate back to the mainstream society, and start over a new, peaceful, and productive life.
Governor Ryan Luis V. Singson, in his message, emphasized the accomplishments of his administration in support to sustaining peace and development in the province. He likewise praised the former rebels for their decision to return to the folds of the law and encouraged them to persuade the remaining NPA rebels and their supporters in the Province to abandon the armed struggle and return to the government folds. Lastly, he announced that he will personally reward each participant P2,000 as an incentive.
LGOO II Jaemee Erleen T. Espejo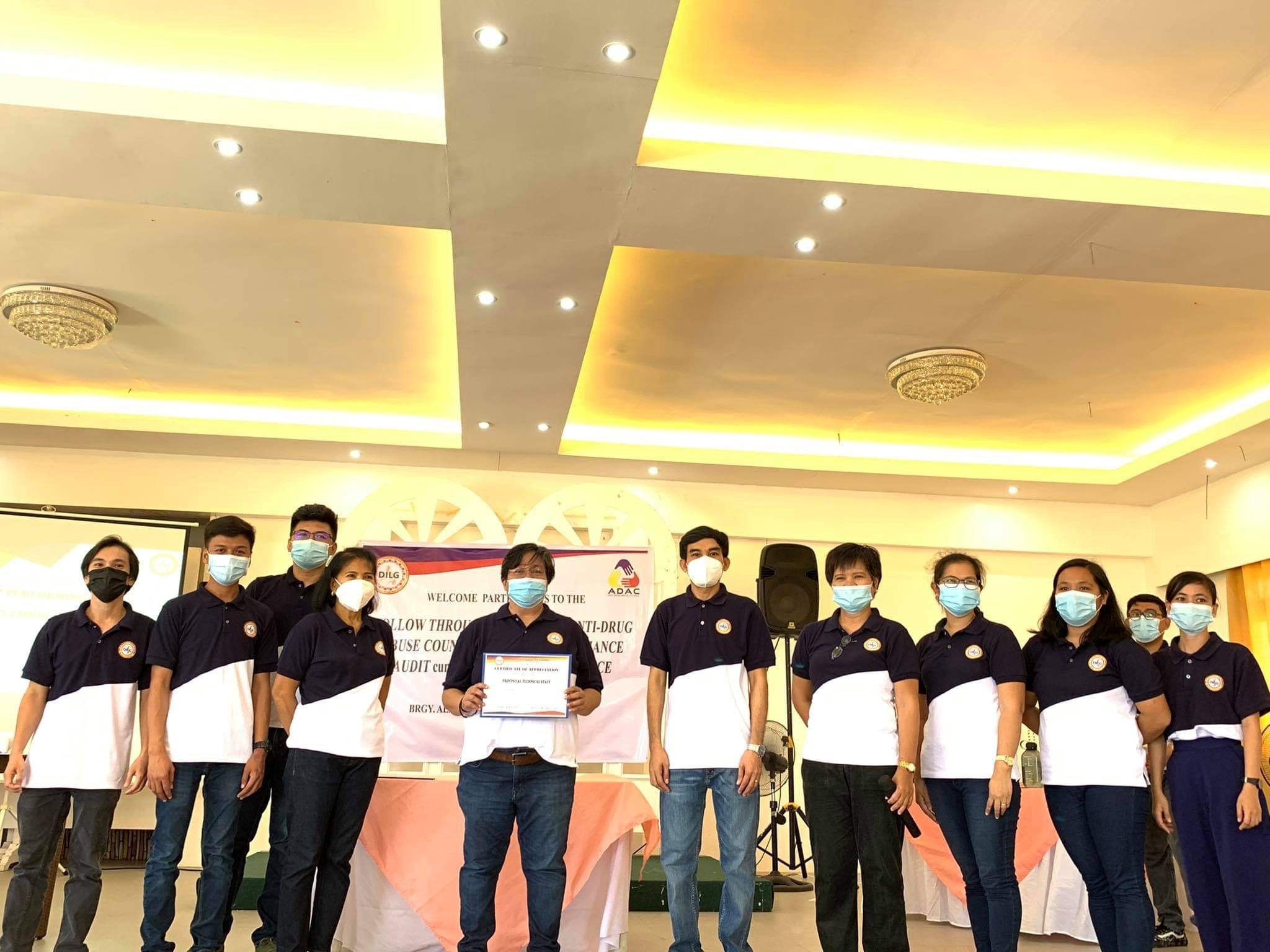 DILG Ilocos Sur Confers Recognition to Performing Personnel for CY2020
Bantay, Ilocos Sur – The DILG Ilocos Sur headed by Provincial Director Randy S. Dela Rosa, CESE conducted "The Pammigbig 2021 for Matino, Mahusay at Maaasahan CY 2020 Awards" at the Ichthus Beach Resort, Alangan, Magsingal, Ilocos Sur on May 7, 2021 following minimum public health standards.
Individual awards were conferred to DILG Ilocos Sur personnel, to wit:
Best Performing MLGOO
Top Performer (Submission of Complete Admin Requirements)
Best Performing Provincial Office Staff
Special Awards on Selected Programs
LTIA Provincial Entries:
CLGOO Andres Vendiola, Jr (City Category for Brgy. II and Amianance, Vigan City, Ilocos Sur)
MLGOO Bradford Burgonio (1st-3rd Class Municipal Category for Brgy. Dili, Sta. Cruz, Ilocos Sur)
MLGOO Isidora Vendiola (4th-6th Class Municipal Category for Brgy. Paduros, Burgos, Ilocos Sur)
LTIA Municipal Entries:
CL Mila Madriaga (San Ildefonso)
OIC-MLGOO Mely Bas-angen (Alilem)
MLGOO Carmela Eloy Cardenas Vergara (Banayoyo)
MLGOO Randel RJ Padua (Bantay)
MLGOO Eloisa Roberonta Rigucera (Cabugao)
OIC-MLGOO Rey Colisao (Caoayan)
MLGOO Narciso Boyet Edal (Cervantes)
MLGOO Raquel Soliva Lelina (Galimuyod)
OIC-MLGOO Honey Lou Baguso (Gregorio Del Pilar)
MLGOO Kay Legrand Digay (Lidlidda)
MLGOO Aprille Regina Guerrero (Magsingal)
MLGOO Joselito Racca (Nagbukel)
MLGOO Elmer Advincula (Narvacan)
MLGOO Arvin C. Dauz (Quirino)
MLGOO Ma. Aleli Molina (Salcedo)
MLGOO Mildred Villaruz (San Emilio)
MLGOO Russel O. De Peralta (San Esteban)
MLGOO Amado Tabin (San Juan)
MLGOO Marjorie Abaya (Santa)
MLGOO Manuel Dumagpi (Santiago)
MLGOO Oliva Guzman (Sinait)
MLGOO Alvin Navarro (Sta. Catalina)
MLGOO Imelda Babette Ordono (Sta. Lucia)
MLGOO Fema Manabeng (Sta. Maria)
MLGOO Lorna Bueno (Sto. Domingo)
MLGOO Chester Baltazar Reynante (Sugpon)
MLGOO Angelita Lagdamen (Suyo)
RCSP Implementation
The Special Awards aims to recognize DILG Ilocos Sur personnel who have demonstrated outstanding performances and exceptional services in the implementation of the Department's Programs, Projects and Activities for CY 2020. The Provincial Awards Committee composed of the Provincial Director (as chairman), Cluster Leader, Program Manager, Planning Officer and Provincial Focal Persons carefully screened the nominees and deliberated on the winners based on performance accomplishments. END/LGOO II Jaemee Erleen Espejo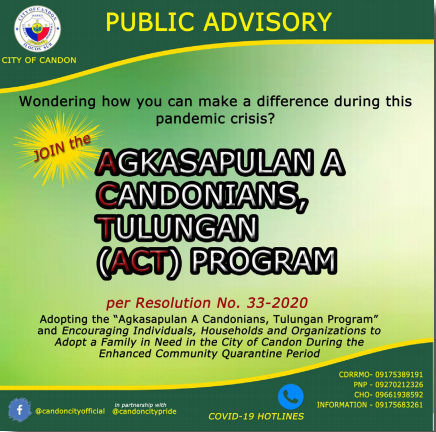 Agkasapulan a Candonians Tulungan (ACT) Program
The City Government of Candon, Ilocos Sur, realizing the severe impact of the Coronavirus Disease 2019 (COVID-19) pandemic, launched their local initiative program called "Agkasapulan a Candonians Tulungan (ACT)" to provide assistance to the most affected Candonians. The ACT program aims to promote the Bayanihan spirit during the pandemic crisis by encouraging voluntary participation of individuals, households and organizations to extend help to families who are in need within their respective barangays.
It is also a means to augment the assistance and support coming from the national government through various Social Amelioration Programs of different government agencies and from the city government and the barangays through its own initiatives. Another objective of ACT program is to provide short term relief to the identified family beneficiaries in the form of relief goods, food packs, groceries and other essential goods until the Enhanced Community Quarantine is lifted.
The ACT program was immediately adopted by the City Council presided by City Vice Mayor Kristelle Singson through Resolution No. 33-2020 entitled Adopting the "Agkasapulan A Candonians, Tulungan Program" and encouraging Individuals, Households and Organizations to Adopt a Family in need in the City of Candon Agkasapulan a Candonians Tulungan (ACT) Program LGU: Candon City , Ilocos Sur during the Enhanced Community Quarantine Period.
The adopter as defined in the resolution is any individual, household and organization who willingly participated to provide support and hope to its identified adoptee/s, provides the adoptee relief goods/grocery items/ food packs or other essential goods worth of 300 pesos and above for every 15 days or more frequent at the discretion of the adopter.
Adoptee meanwhile as stated also in the said resolution is any family whose economic life has been severely compromised by the COVID-19 pandemic or those who belong to the low-income sector or preferably those who are not yet covered by any of the social amelioration programs of the national government.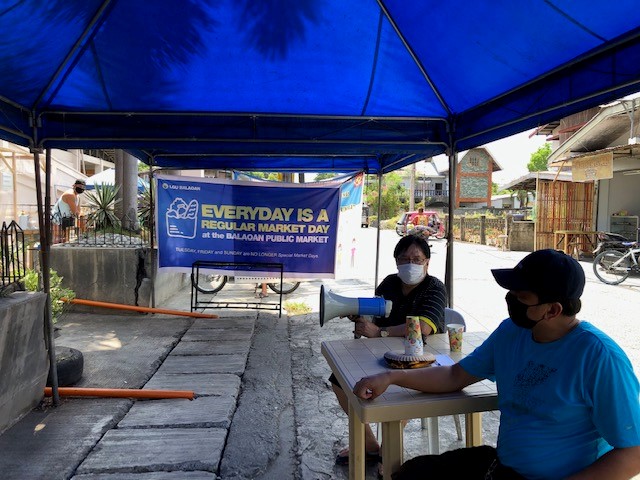 Best Practice in the Public Market of Balaoan, La Union
Policy Support
President Rodrigo Roa Duterte signed last March 8, 2020 Proclamation No. 922 declaring a State of Public Emergency throughout the Philippines due to Corona Virus Disease 91 (Covid-19), thus enjoining all local government units (LGUs) to render full assistance to undertake appropriate measures to curtail and eliminate the threat of Covid-19 in a timely manner. On March 16, 2020, Proclamation No. 929 declaring the entire Philippines under State of Calamity due to COVID-19 pandemic.
Executive Order No. 2020-03-023 was issued prescribing a market scheme in adherence to the IATF directives. Said EO required all individuals entering the public market to undergo temperature check and do handwash. To be on track on the curfew hours of 6AM to 6PM, the market was declared open from 6:00 AM to 5:00PM daily, giving ample time for vendors to set up their merchandise in the morning, and for market-goers to arrive home on time. The market was also set up with one entrance and one exit point only, while market disinfection is scheduled once a week.
Due to the increasing positive case in the Province of La Union, one of the safeguard measures implemented by the municipal government is regulating the schedule of market operations. Executive Order no. 2020-04-027 prescribing the market schedule of various barangays effective April 12, 2020.
On April 8, 2020, Mayor Concepcion signed EO No. 2020-04-028 requiring the mandatory wearing of facemasks in all public places.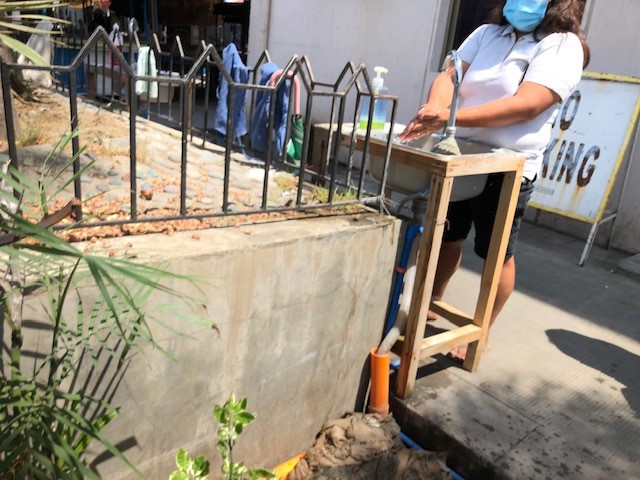 Orderliness
Social distancing markers are painted on pavements of the public market. The Philippine National Police constantly reminds market goers, including those queuing in pawnshops, pharmacies, stores and others, to observe social distancing.
Popularizing the "Talipapa" and "Pasa-buy"
In its effort to regulate the movement of people and gathering of crowd in the public market, Mayor Concepcion called the active participation of barangay folks to put up a talipapa (satellite market) in locations feasible to said activity. As of April 6, 2020, a total of 22 barangays have already set up a talipapa, that further complemented the efforts of the LGU to limit the movement of people.
In the absence of public transport, civic-minded people in Balaoan popularized "pasa-buy" (pasabay), a scheme which exhibits the "bayanihan" value of the Filipinos. A volunteer resident, with private vehicle, collects orders from neighbors and buys and distribute them, at no extra cost.
Likewise, the Municipal Government have been distributing food packs to the poorest of the poor every week, since the start of the Enhanced Community Quarantine.
The local government unit of Balaoan, guided by national policies, has been exploring possibilities, and implementing guidelines that serves the greater good for greater number. The concerted effort of the townspeople of Balaoan has maintained its zero positive case on Covid-19 as of this writing.
MLGOO OLIVIA MAE N. DE GUZMAN