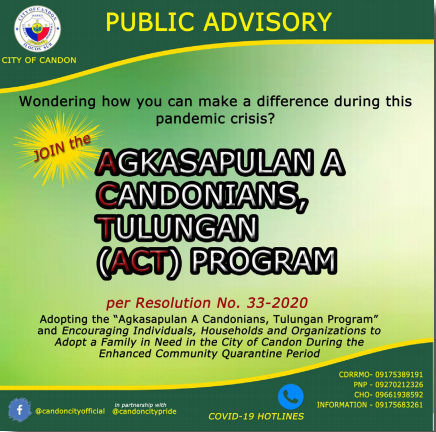 Agkasapulan a Candonians Tulungan (ACT) Program
The City Government of Candon, Ilocos Sur, realizing the severe impact of the Coronavirus Disease 2019 (COVID-19) pandemic, launched their local initiative program called "Agkasapulan a Candonians Tulungan (ACT)" to provide assistance to the most affected Candonians. The ACT program aims to promote the Bayanihan spirit during the pandemic crisis by encouraging voluntary participation of individuals, households and organizations to extend help to families who are in need within their respective barangays.
It is also a means to augment the assistance and support coming from the national government through various Social Amelioration Programs of different government agencies and from the city government and the barangays through its own initiatives. Another objective of ACT program is to provide short term relief to the identified family beneficiaries in the form of relief goods, food packs, groceries and other essential goods until the Enhanced Community Quarantine is lifted.
The ACT program was immediately adopted by the City Council presided by City Vice Mayor Kristelle Singson through Resolution No. 33-2020 entitled Adopting the "Agkasapulan A Candonians, Tulungan Program" and encouraging Individuals, Households and Organizations to Adopt a Family in need in the City of Candon Agkasapulan a Candonians Tulungan (ACT) Program LGU: Candon City , Ilocos Sur during the Enhanced Community Quarantine Period.
The adopter as defined in the resolution is any individual, household and organization who willingly participated to provide support and hope to its identified adoptee/s, provides the adoptee relief goods/grocery items/ food packs or other essential goods worth of 300 pesos and above for every 15 days or more frequent at the discretion of the adopter.
Adoptee meanwhile as stated also in the said resolution is any family whose economic life has been severely compromised by the COVID-19 pandemic or those who belong to the low-income sector or preferably those who are not yet covered by any of the social amelioration programs of the national government.