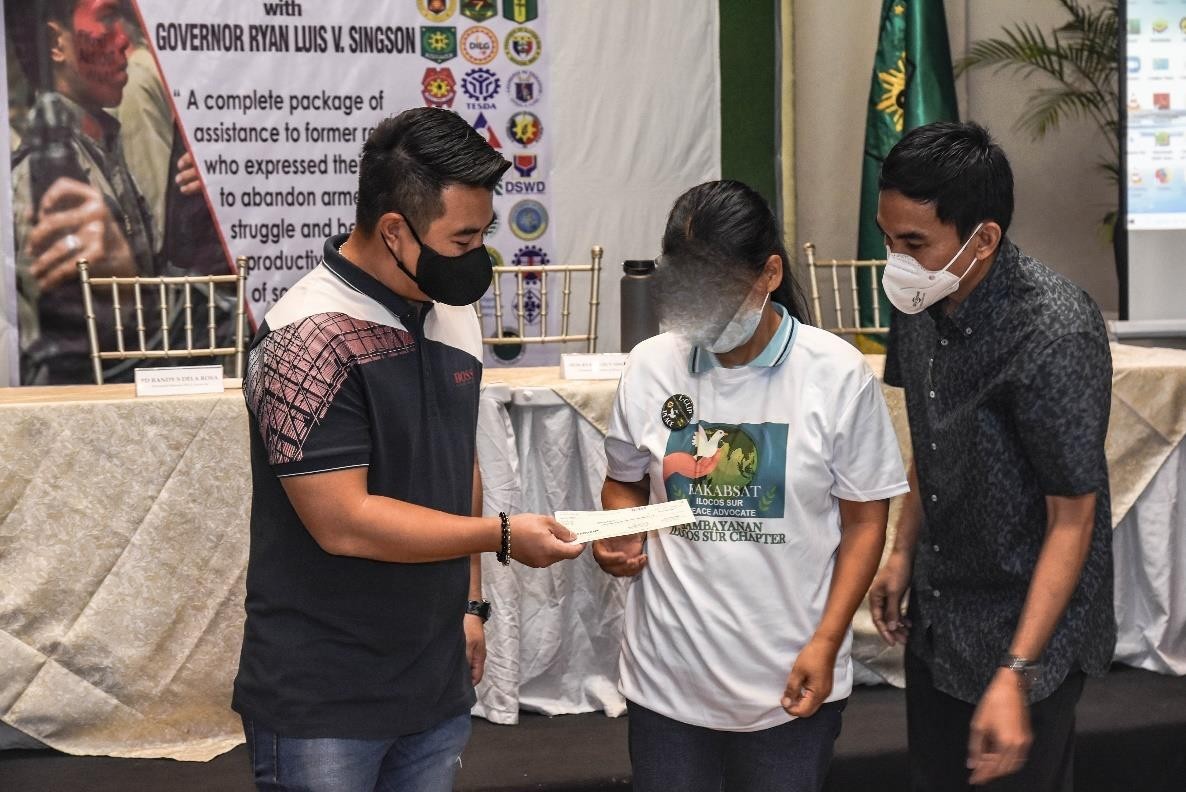 1.436 MILLION PESOS AWARDED TO 11 FORMER REBELS (FRs) UNDER THE ENHANCED COMPREHENSIVE LOCAL INTEGRATION PROGRAM (ECLIP)
Bantay, Ilocos Sur – A total of eleven former rebels (9-Militia ng Bayan; 2- Regular NPAs) who surrendered in the Province of Ilocos Sur received their respective financial assistance during the E-CLIP Awarding Ceremonies held on May 20, 2021 at Mel Sol's Inn & Resort. Each of the recipients was awarded with P15,000 immediate assistance, while additional P50,000 livelihood assistance was awarded to regular NPA members and firearm remuneration to those with surrendered/ turned-over firearms. Reintegration assistance was also awarded to the Unit where the former rebels surrendered. A total amount of P 1,436,000 was awarded to the recipients.
The ECLIP is one of the flagship programs of President Rodrigo Roa Duterte that seeks to address social healing and national unity toward the higher objective of having just and lasting peace. It is one of the major interventions to provide social equity to former members of the CPP-NPA-NDF and the Militia ng Bayan to reintegrate them into mainstream society.
Governor & ECLIP Committee Chairman Hon. Ryan Luis V. Singson and joined by DILG-Ilocos Sur PD Randy S. Dela Rosa, LTC Rodrigo A. Mariñas, Jr, Commanding Officer, 81st IB, 7ID, PA, and PLTCOL Simeon G. Damolkis, Ilocos Sur Police Provincial Office awarded the cheques to the 11 recipients.
In his message, DILG Ilocos Sur Provincial Director Randy S. Dela Rosa, CESE emphasized that the program aims to encourage rebel members of CPP-NPA-NDF and Militia ng Bayan to reintegrate back to the mainstream society, and start over a new, peaceful, and productive life.
Governor Ryan Luis V. Singson, in his message, emphasized the accomplishments of his administration in support to sustaining peace and development in the province. He likewise praised the former rebels for their decision to return to the folds of the law and encouraged them to persuade the remaining NPA rebels and their supporters in the Province to abandon the armed struggle and return to the government folds. Lastly, he announced that he will personally reward each participant P2,000 as an incentive.
LGOO II Jaemee Erleen T. Espejo