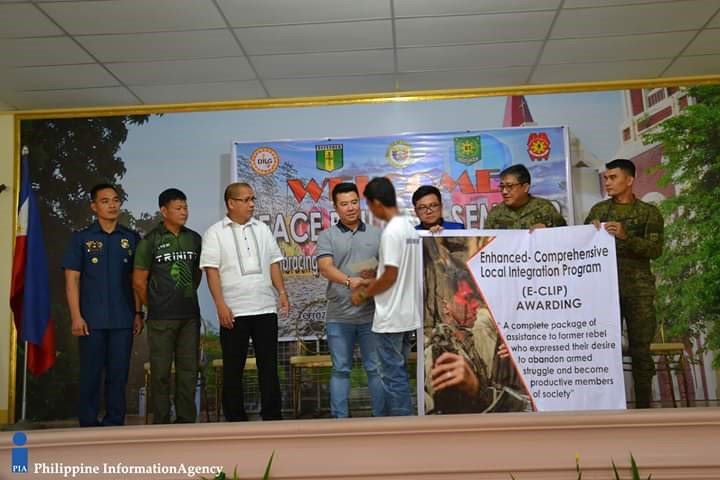 18 FRs in R1 granted assistance from E-CLIP
In two separate occasions, a total of Eighteen (18) former rebels (FRs) who had surfaced and surrendered from the provinces of Ilocos Sur and Pangasinan were granted financial assistance from the government under the Enhanced Comprehensive Local Integration Program (E-CLIP). Seventeen (17) of them surfaced in the province of Ilocos Sur, while One (1) in the province of Pangasinan.
The former rebels in Ilocos Sur received their assistance during the Seminar on Peace Building held at Terraza De Niňo Resort Function Hall, Brgy. Aggay, Bantay, Ilocos Sur on January 27, 2020. The ceremony was attended by Governor Ryan Singson, DILG Regional Director James F. Fadrilan, DILG Ilocos Sur Provincial Director Virgilio Sison, Col. Angel Madarang (GSC), and Deputy Brigade Commander, Major Renante S. Carsano, Bn Ex-O 81st IB, 7ID, PA.
Each former rebel was granted an immediate assistance of Php15,000.00 (for members of New People's Army and Militia ng Bayan) and a livelihood assistance of Php50,000.00 (for NPA only) among many other benefits specified in the E-CLIP implementing guidelines. Some former rebels who turned-in their firearms received amount double the cost valuation of their surrendered weapons. On the other hand, a reintegration assistance of Php21,000.00 was also granted to the units for every former rebel they received.
The one former rebel who surfaced from Pangasinan received his Php15,000.00 initial assistance and Php50,000.00 livelihood assistance at the Provincial Social Welfare and Development Office (PSWDO), Lingayen, Pangasinan on January 27, 2020. The receiving unit of the former rebel also received Php 21,000.00 as reintegration assistance
The E-CLIP veers away from the previous practice of pre-packaged interventions designed at the national level. Rather, it is a locally-driven, managed and implemented program, thereby responding to the specific circumstances, needs and concerns of former rebels through provision of initial, livelihood, and reintegration assistance as specified in the DILG and Department of National Defense (DND) Joint Memorandum Circular No. 2018-01 dated July 5, 2018 entitled "Implementing Guidelines for the Provision of DILG-Administered Package of Assistance for Former Rebels (FRs) and Militia ng Bayan (MB)".
The E-CLIP also recognizes the crucial role of civil society organization (CSO) and the community as a vital unit of society that could assist the former rebels. Through the E-CLIP, these former rebels are not simply treated merely as "beneficiaries" but active participants as they mainstream and become productive citizens of the society.
LGOO II Jeslen B. Tesoro