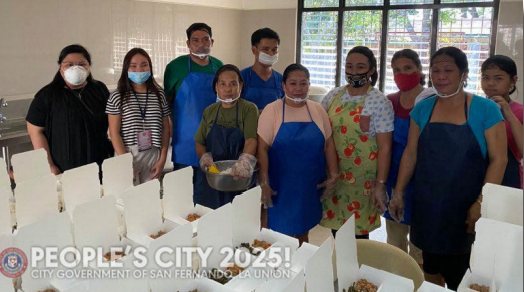 "Kalinga para sa Kumakalinga"
The COVID-19 pandemic continues to challenge local government units to craft innovative plans to address community concerns, and with the Enhanced Community Quarantine being implemented, the city government is working tirelessly to bring genuine solutions to problems that may arise. One of the commitments by the city government is to protect those who courageously preserve the community – the city's frontliners, that is why the Kusina ng Kalinga (KnK) has been reactivated.
Kusina ng Kalinga is a feeding program aimed at fighting hunger and it has been operational since March 19, 2020 supplying meals for frontliners of the People's City of San Fernando. "Kalinga para sa Kumakalinga" LGU: City Government of San Fernando, La Union LOGISTICS The Central Kitchen of KnK, located at Canaoay Elementary School, is manned by three (3) local government employees and five (5) volunteers operating from Monday to Sunday, from 4:30 in the morning to 7:00 in the evening.
Since the reactivation of KnK up to April 22, 2020, the City Government has served 54, 420 meals, inclusive of breakfast, lunch, and dinner, to the city's doctors, nurses, and other frontliners who ensure the safety and security of the entire citizenry. With the reactivation of KnK, the city government was able to save around PhP 50.00 – PhP 70.00 per meal which was utilized to augment the needed funding to support other programs, such as relief operations, and procurement of PPEs for the frontliners.