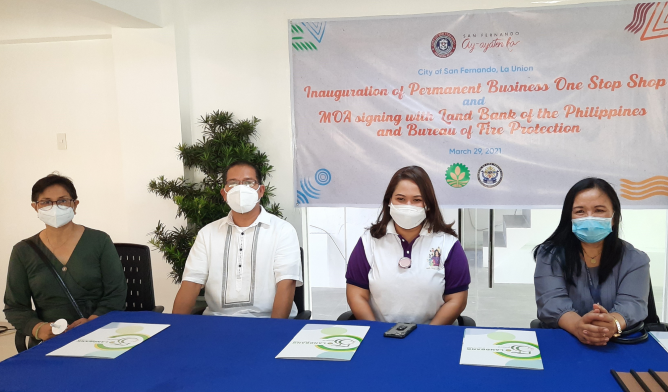 City of San Fernando opens Permanent BOSS to Business Sector
The City Government of San Fernando, La Union unveiled their permanent Business One Stop Shop (BOSS) on March 29, 2021 located beside the City Hall where applications for permits and licenses will be received and processed.
DILG La Union Provincial Director Virgilio P. Sison graced the unveiling of CSF Permanent BOSS with CLGOO Lily Ann O. Colisao, and DTI La Union Provincial Director Merlie D. Membrere. Also present during the unveiling are Fire Chief Inspector Ferdinand Formacion, Landbank Manager Adeline Ramos, and Chamber of Commerce and Industry of La Union president Lina Flor Hizon. Acting Vice-Mayor Maria Rosario Eufrosina "Chary" P. Nisce led the City in this momentous event.
The first phase of (permanent BOSS) building construction was funded through the Performance Challenge Fund (PCF) received in 2018. The PCF is an incentive fund granted to Local Government Units that were conferred with the much-coveted Seal of Good Local Governance (SGLG) by the DILG.
"Although the building was partly funded by the Performance Challenge Fund granted by the DILG, this is a product of the City's exemplary performance," emphasized PD Virgilio Sison.
Increasing competitiveness and the ease of doing business is one of President Rodrigo Duterte's 10-point socio-economic agenda. In 2018, the Ease of Doing Business and Efficient Government Service Delivery (EODB-EGSD) Act or Republic Act No. 11032, was signed into law seeking to make the process of putting up and running in the Philippines easier and more efficient. The DILG, ARTA, DTI and DICT then issued policies to aid the implementation of the said act.
For the past years, the City had set up a temporary BOSS in the city hall to cater applicants for business permitting and licensing especially during the months of January to March.
With the new permanent BOSS, more business applications will be accommodated year-round. Aside from the foreseen increase in the LGU's revenues, the establishment of PBOSS shows the City's commitment to people-centered, clean, efficient and effective governance.
"This achievement is a concerted effort, and we dedicate this building to the business sector," Nisce said.
She added that the building provides health relief among the employees of the city hall and clients for it will decongest the traffic inside the main building, thus decreasing the risk of exposure to health hazards.
During the event, the City also inked a Memorandum of Understanding with the Landbank of the Philippines to facilitate online payments, and with the Bureau of Fire Protection to assign the city as a collecting agent of Fire Safety Inspection Fees.
All these improvements aim to shorten the processing time of application, lessen the burden among business owners and curb red tape in government processes.
-LGOO II Hedrich Calderon