DILG R1, recognized for most number of 2014, 2016 SGLG awardees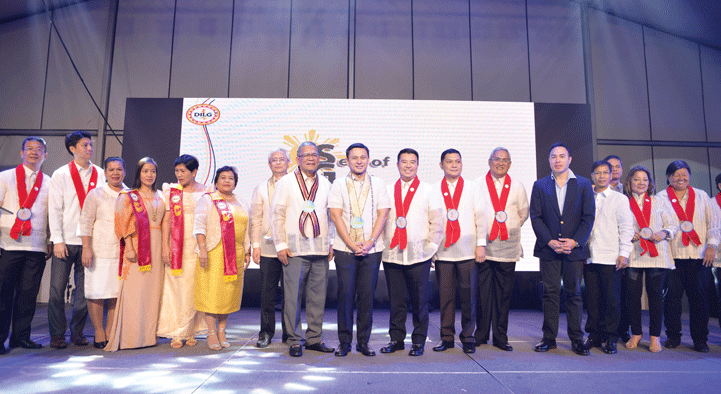 The DILG R1 takes pride for having 45 local government units (LGUs) awarded with the Seal which is five notch higher than the 40 LGU-awardees for the 2014 assessment year. This is theDILG R1's second year of having the most number of awardees. "We are overjoyed for this feat. This only shows that LGUs of Region 1 are striving to realize the ideals of good governance. And for that, we are thankful because we know that their efforts will redound to the good of our people," said Regional Director Julie J. Daquioag during a convocation with the personnel of DILG R1.
RD Daquioag also hopes that DILG Field Officers will be more motivated in the performance of their duties and functions because they have a role to play in the achievements of LGUs where they are stationed.
"May this serve as an inspiration for our Field Officers. As prime movers in the communities, they play a significant role in the compliance of LGUs to the different laws and regulations as
reflected in the SGLG criteria. In the context of local governance, partnership and convergence is a key to local development. That is why, I also like to extend my congratulations to our Field Officers who displayed diligence in the performance of their duties and responsibilities," she said.
The 45 LGUs awarded with the 2016 SGLG are: Banna, Marcos, Nueva Era, Paoay, San Nicolas, Vintar, Batac City, Laoag City, and Provincial Government of Ilocos Norte; Caoayan, Cervantes, Nagbukel, Narvacan, Quirino, Salcedo, San Vicente, Santa, Sto. Domingo, Tagudin, Vigan City, and Provincial Government of Ilocos Sur; Agoo, Burgos, Rosario, San Gabriel, Tubao, and Provincial Government of La Union; and Agno, Alcala, Balungao, Bayambang, Bolinao, Dasol, Infanta, Laoac, Lingayen, Rosales, San Nicolas, San Quintin, Sta. Maria, Tayug, Villasis, Dagupan City, Urdaneta City, and Provincial Government of Pangasinan. Each of the LGU-awardees received an SGLG marker, certificate of recognition and lei. They
shall also be awarded with Performance Challenge Fund (PCF) in the amount of P4 Million for provinces, P3.4 Million for cities, and P3 Million for municipalities upon submission of documentary requirements per PCF guidelines. The SGLG is an award and incentive program for performing LGUs. It challenges provinces, cities,and municipalities to improve their performance through its up-scaled criteria along three (3) core areas and three (3) essential areas of assessment. The three (3) core areas are Financial Administration, Disaster Preparedness and Social Protection while the three (3) essential areas are Business-Friendliness and Competitiveness, Peace and Order and Environment Protection. LGUs must past the three (3) core criteria and any of the essential areas to be a recipient of the SGLG. (LGOO V Sheila Marie G. Andales)