SPO4 Juan is PNP Model Family in R1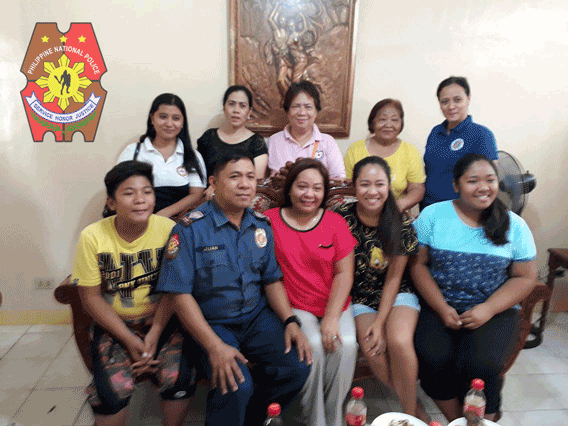 "To be nominated in the Search for PNP Model Families is already an honor for the uniformed police officers who risk their lives to protect and serve the community." Regional Director Evangeline R. Almirante of the National Police Commission (NAPOLCOM) emphasized this during the on-site validation conducted by the Regional Search Committee (RSC). She commended the nominees for uplifting the image of police officers as family person and partner in community development.
The Search highlights family values, work ethics, and involvement in activities that promote positive changes in the community. It advocates the capability of police officers as partners in maintaining peace and order towards a more progressive socioeconomic system. It is open to all uniformed members of the PNP with legitimate or legally adopted child/children, legally married and living together with his/her spouse for at least five (5) years, and has been in the police service for at least five (5) years at the time of the Search.
After much deliberation, SPO4 Dennis A. Juan and his family stood out as the PNP Model Family of Region 1 having ranked first among six (6) nominees. The other nominees were: SPO4 Erlinda Gagaoin of La Union; PO3 Ador Puntalba and SPO2 Emma Ruth Apostol of Pangasinan; SPO4 Myrna Almadrigo and SPO4 Cesar Ramos of Ilocos Norte.
SPO4 Juan is currently assigned at Ilocos Norte PNP Provincial Office (INPPO) and is regarded by his colleagues as a soft-spoken and generous person. His family exhibited the characteristics befitting a model family. One of their advantages is the community outreach program they initiated as a family which has been sustained for 17 years. Their three (3) children would save money from their allowances to be used in buying school supplies for a group of pupils in their area. They aim to do this until the selected pupils graduate from 6th Grade. Their children also stated that when they finish school, they will continue what their parents have started.
Each nominated family were rated based on: how the parents share their responsibilities in raising their children; how they show their respect for one another in the family; how they uphold moral principles; and how they are able to bring about better change in their community.
Members of the RSC interviewed the nominees and their family, their superiors and co-workers, neighbors, pastors/ priests and local officials to assess which family will be nominated at the national level to vie for the title PNP Model Family.
The RSC is chaired by Ms. Geraldine Ortega of La Union Vibrant Women, Inc., with members composed of representatives from the National Police Commission (NAPOLCOM), the Department of the Interior and Local Government (DILG), Philippine National Police (PNP) and St. John Bosco College of Northern Luzon.
Members of the committee conducted the on-site validation on May 8, 2017 for La Union; May 10-11, 2017 for Ilocos Norte; and May 15-16, 2017 for Pangasinan.
All the Regional nominees will be awarded in the culmination of the National Crime Prevention Week (NCPW) this coming' September 2017.

- Nicolette May O. Amon
LGOO IV, DILG R1
R1 leagues, CSOs pledge support for MASA MASID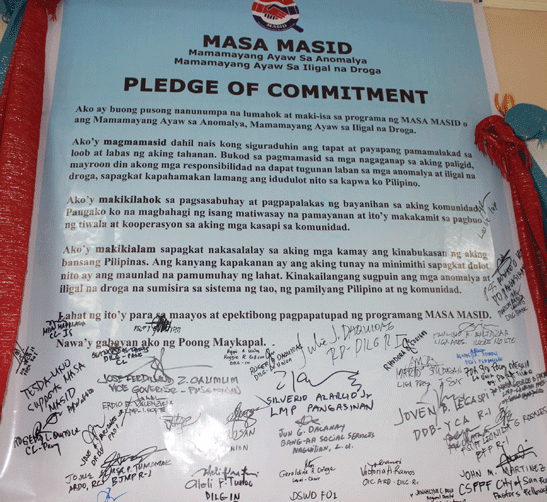 The League of Municipalities of the Philippines (LMP), Liga ng mga Barangay (LnB), National Government Agencies (NGAs) and a number of civil society organizations (CSOs) in Region 1 expressed their support to the implementation of the Mamamayang Ayaw sa Anomalya, Mamamayang Ayaw sa Iligal na Droga (MASA MASID) during the program's Regional Launch last October 25, 2016 at the DILG Regional Office 1, City of San Fernando, La Union.
"I do believe that this (MASA MASID) will save everybody for a better Philippines," said Mayor Erdio Valenzuela, LMP Ilocos Norte Chapter President. Representatives from the four provincial
governments attended the activity along with representatives from the four provincial chapters of the LMP, LnB, CSOs and faith-based organizations operating in the region.
In her message, Regional Director Julie J. Daquioag emphasized the need for every sector of the society to actively participate in the program. "All of us have roles in this program because peace and order is everybody's business," she said. Partners from the different national government agencies like the Philippine National Police (PNP), Philippine Drug Enforcement Agency (PDEA), Department of Social Welfare and Development (DSWD), Technical Education and Skills Development Authority (TESDA), Bureau of Fire Protection (BFP), Bureau of Jail Management and Penology (BJMP) and the Philippine Information Agency (PIA) also attended the MASA MASID regional launch.
Officials and employees present were stunned as PSSUPT Jose Briones of the PNP presented the statistics on drug users, drug pushers and surrenderers. "Ang mga ito ang pumipigil sa atin tungo sa magandang buhay. Noon, hindi natin nakikita ang problema. Ngayon, we are face to face with the problem," LMP Pangasinan Chapter President Mayor Silverio Alarcio, Jr. said, responding to the volume of R1 leagues, CSOs pledge support for MASA MASID surrenderers and arrests in the region for the last four months.
The Local Chief Executive expressed his thankfulness to the President for paving the way for programs such as MASA MASID. "Magpasalamat tayo sa ating Pangulo dahil nakita niya
ang paraan para tayo ay sumulong sa magandang buhay. Nagpapasalamat ako sa ating Pangulo dahil nakikita natin ang problema," he said.
Mayor Alarcio also urged the body to respond to the call of the program. "Tayong mamamayan ang sisisihin kung di natin masolusyunan ang problema kasi kitang-kita na natin
kapitbahay mo, kamag-anak mo, magulang mo, anak mo, kaibigan mo. In short, mas madali na dapat para sa atin ang resulbahin ang problema. Hikayatin natin ang ating mga mamamayan. Sana hindi na natin pakakawalan itong oportunidad na ito."
Vice Governor Jose Ferdinand Calimlim, representing Gov. Amado Espino, III, also expressed the provincial government's support for the program. "Ang amin pong commitment ay hindi lamang po kay Secretary (Sueno), hindi lamang po sa PDEA at hindi lamang po sa Presidente. Kundi we are committing to this mandate dahil gusto po namin ng magandang
kinabukasan para sa lahat po ng aming constituents," he said.
Also present during the activity were representatives from faith-based organizations who showed eagerness to support the program. "Wala pong iwanan dito. Lahat po kami ay susuporta sa
MASA MASID. Hindi lang po kami sasama. Mag-iingay po kami. Sabi nga po ni Secretary (Sueno), lahat ng tao ay mag-ingay o makialam. Ito po ang pag- asa natin," said Rev. Joven B. Legaspi of the Yeshua Change Agent. The MASA MASID is a barangay-based anti-criminality, anti-corruption and anti-illegal drugs program which encourages multi-sectoral partnership to
intensify the spirit of volunteerism at the community level. It aims to heighten community involvement by mobilizing the support of local stakeholders, volunteers, civic organizations, faith-based organizations and the private sectors in the fight against illegal drugs, criminality and corruption. (LGOO V Sheila Marie G. Andales with reports from LGMED)
'Three in a row!' DILG R1 is PBB 2015 Best Office
The Department of the Interior and Local Government Region (DILG R1) was again ranked as Best Office in the recently concluded rating and ranking of DILG Delivery Units for the grant of the FY 2015 Performance Based Bonus (PBB).
Regional Director Julie J. Daquioag made the announcement to key personnel of the DILG R1 today, August 17, 2016.
"My congratulations to everyone. We just received a letter from the Central Office informing us that Region 1 was again ranked as Best Office for PBB 2015", RD Daquioag said.
The DILG R1 was also ranked as Best Office last 2013 and 2014. RD Daquioag said that being ranked as Best Office for the third time shows consistency in performance.
"What is so special about it is that this is our third time to be rated as Best Office. This means that we have been very consistent with our performance", RD Daquioag joyfully told members of the Regional Management Team.
DILG R1 holds basic orientation for LCEs
The Department of the Interior and Local Government Region 1 (DILG R1) held a basic orientation for 80 re- elected and 10 newly- minted Local Chief Executives (LCEs) of the Region last August 30- September 1, 2016.
The Basic Orientation is Part I of the second component of the Newly Elected Officials (NEO) Program of the Department which will introduce the NEOs to the organizational, political, and constitutional environment of public service at the local government level.
The Basic Orientation was originally intended for re-elected LCEs. Newly- minted LCEs who were unable to attend the Basic Orientation conducted by the Local Government Academy (LGA) last June were invited to ensure that all LCEs of the region are guided on their first crucial days.
Following President Rodrigo Duterte's pronouncements during his State of the Nation Address (SONA), the Basic Orientation aims to discuss the issues and challenges of decentralization and explain features of Federalism as critical next step for decentralization.
Through the orientation, NEOs had opportunities to dialogue with key agencies on disaster risk reduction and management and peace and order with key emphasis on the National Government's Framework on Disaster Risk Reduction, Role of Local Governments in Disaster Management, Utilization of Project Noah, Lambat Sibat Program of the Philippine National Police (PNP), and Enhancing Institutional Relationships between the PNP and local government units (LGUs) through Deputization of Local Police with the National Police Commission.
Former and incumbent LCEs were also invited to share their vast experiences on Crisis Management, Local Economic Development, Fiscal Management and Leadership and Management to the NEOs. The LCE- sharers were Mayor Belen T. Fernandez of Dagupan City; Former Mayor Eddie G. Guillen of Piddig, Ilocos Norte; Mayor Alfredo P. Valdez, Jr. of San Nicolas, Ilocos Norte and Former Mayor Edgardo S. Cobangbang of Cabugao, Ilocos Sur.
A discussion on Strategic Management, highlighting the ASEAN Economic Integration and President Duterte's SONA which will serve as input to the LCEs formulation of their respective Development Commitment: Executive- Legislative Agenda capped the basic orientation.
The NEO Program is a continuing program of the DILG implemented through the LGA and the Regional Offices. It aims to build strategic leaders out of newly- elected officials who would lead their governments in becoming competitive, efficient and responsive institutions for development.
San Carlos, Candon to adopt simplified regulatory processes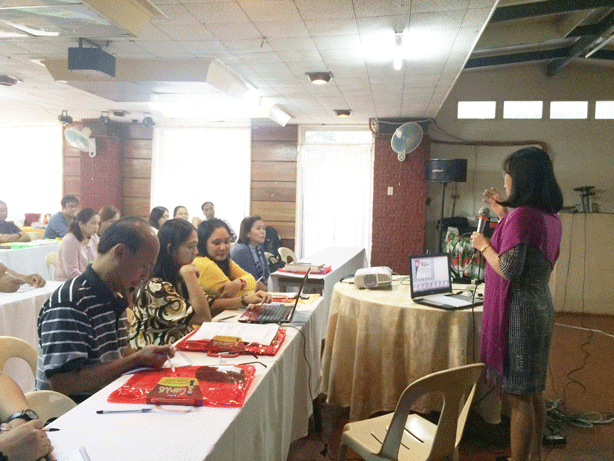 The cities of San Carlos and Candon are set to adopt simplified regulatory processes following the Training- Workshop on Regulatory Simplification for Local Government (RS4LG) last July 20-22, 2016 at Villa Silvina Hotel, Baguio City attended by members of the cities' Simplification Management and Project Teams (SM / PTs).
The training- workshop aims to orient the members of the SM /PTs on the different phases of regulatory simplification. To ensure the adoption of the RS4LG, both cities shall enter into Memorandum of Agreement (MOA) with the Department of the Interior and Local Government Region 1 (DILG R1) and the Local Government Academy (LGA). This will be followed by separate city consultations for the Designing and Implementation Phases of the program. A Monitoring and Evaluation (M&E) scheme shall be separately done at a later period. This shall be observed per output- desired based on the four phases of simplification process.
The DILG launched the Project in support to the initial program with Department of Trade and Industry (DTI) and the National Competitiveness Council (NCC) which is the Business Permits and Licensing System (BPLS) for the improvement of the LGU regulatory systems and processes in relation to collection of fees for new / renewal of business permits alongside the in-depth analysis of LGU's institutionalized regulatory concept of collection of taxes, fees and revenues.
The RS4LG project shall introduce reforms that will foster acceptable business climate for the investors and prospective businessmen to contribute to the realization of cities' vision as urban center for economic growth and model for good governance.
The seven (7) other cities of the Region and the Municipality of San Nicolas, Ilocos Norte have adopted the RS4LG earlier.
DILG R1 orients 14 LGUs on BuB- CBMS 2016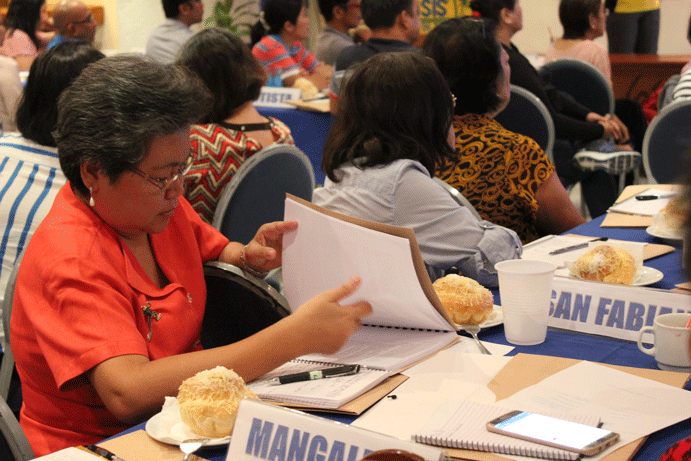 The Department of the Interior and Local Government Region 1 (DILG R1) oriented 14 local government units (LGUs) on the implementation of the Community- Based Monitoring System (CBMS) funded under the Bottom- Up Budgeting (BuB) FY 2016 last July 14, 2016 at the Oasis Country Resort, City of San Fernando, La Union.
The 14 LGUs are Laoag City, Badoc, Paoay, and Solsona of Ilocos Norte; Balaoan and San Juan of La Union; and Bautista, Laoac, Mangaldan, San Fabian, San Manuel, Sto. Tomas, Tayug, and Umingan of Pangasinan. These LGUs were represented by their Local Planning and Development Coordinators, Budget Officers and City / Municipal Local Government Operations Officers.
These LGUs identified CBMS as one of the priority projects in their respective FY 2016 Local Poverty Reduction Action Plan (LPRAP).
In her Opening Message, DILG R1 Regional Director Julie J. Daquioag said that the CBMS is an essential tool in the LGUs' planning and project implementation processes.
"We believe that you [LGUs] programmed this in your Local Poverty Reduction Action Plan (LPRAP) for FY 2016 because you want complete, comprehensive, and up- to- date data that would guide your future decision- making processes since the CBMS is an organized system of data gathering, validation, and implementation of development programs and projects", RD Daquioag said.
The DILG R1 oriented the participants on the documentary requirements, timelines, implementation arrangement, reporting and liquidation, monitoring and evaluation, and grounds for the cancellation and termination of the program.
The LGUs are expected to complete the implementation of the program by 1st Quarter of 2017.
The CBMS is an organized process for data collection, processing, validation and use of data for various development processes. It is a tool for evidence- based planning that seeks to know the nature and extent of poverty and identify who the poor are, where they are and why they are poor.
Recognizing its use in poverty diagnosis, the CBMS was included in the Department's menu of poverty- reduction programs eligible for funding under the BuB FY 2016. It is being implemented by the Department in partnership with the CBMS Network Group of the Angelo King Institute of the De La Salle University- Manila.
3 R1 Regional LTIA winners receive development grants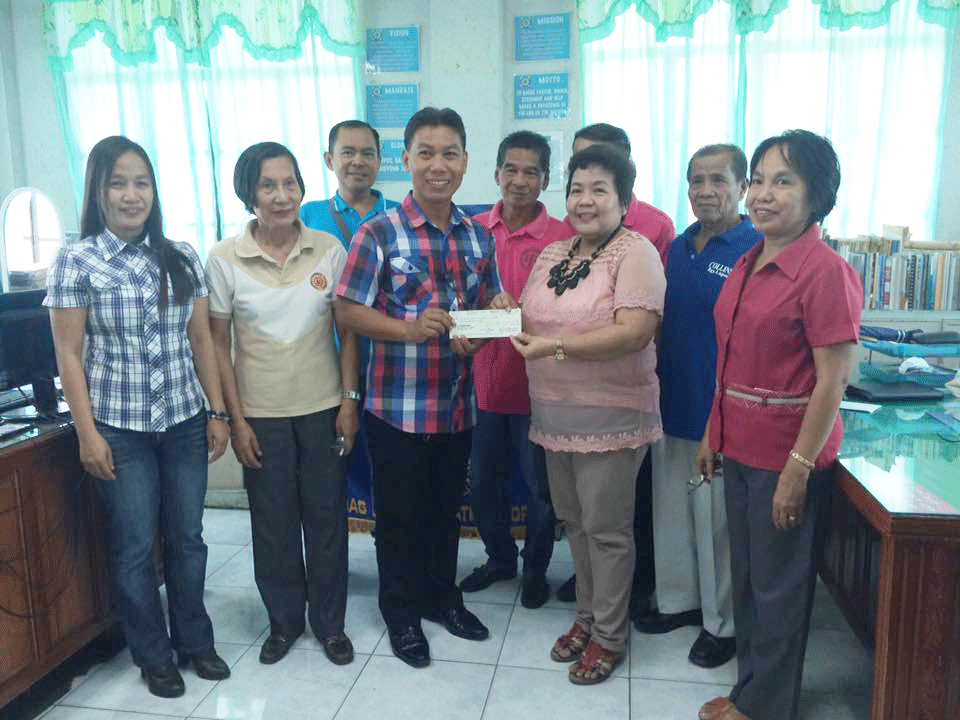 Three Regional Lupong Tagapamayapa Incentives Awards (LTIA) winners of Region 1 received Certificates of Recognition and Development Grant amounting to Php 50,000.00 each from the Department of the Interior and Local Government Region 1 (DILG R1) last July 11, 2016.
The three (3) winners are lupons of Brgy. 1, San Lorenzo, Laoag City (Component City Category); Brgy. Ortiz, Naguilian, La Union (1st- 3rd Income Class Category) and Brgy. Tavora Proper, Pugo, La Union (4th- 6th Income Class Category). They were among the lupons assessed and validated by the Regional Awards Committee (RAC) last March 29, 2016. The three (3) lupons were selected as Regional Winners by the RAC and were nominated as regional nominees to the National LTIA.
Other lupons assessed by the RAC were from Brgy. Parian, City of San Fernando La Union and Brgy. II, Vigan City, Ilocos Sur for the City Category; Brgy. 17 Barcelona, Solsona, Ilocos Norte, Brgy. Turod, Cabugao, Ilocos Sur and Brgy. San Rafael West, San Nicolas, Pangasinan for 1st- 3rd Income Class Category andBrgy. Bilidbid, Salcedo, Ilocos Sur for the 4th- 6th Income Class Category.
The LTIA grants economic benefits and incentives to Lupong Tagapamayapa that demonstrates exemplary performance in settling disputes at the grassroots level. It has three (3) major criteria; namely, Efficiency in the Operations of the Lupong Tagapamayapa, Effectiveness in Securing the Katarungang Pambarangay Objectives, and Creativity and Resourcefulness of the Lupong tagapamayapa. It also has four (4) categories:Highly Urbanized Cities, Component and Independent Component Cities, 1st-3rdClass Municipalities and4th-6thClass Municipalities.
RIMTF validates R1 LGUs on SCFLG

The Regional Inter- Agency Monitoring Task Force (RIMTF) validated and reviewed the documents submitted by the four (4) Provincial Audit Teams for the Seal of Child- Friendly Local Governance (SCFLG) last July 5, 2016 at the Conference Room, DILG Regional Office 1, City of San Fernando, La Union.
The RIMTF, chaired by the Department of the Interior and Local Government with the Department of Social Welfare and Development and the Department of Education as members, prepared the over- all ratings of the four (4) cities and 116 municipalities for submission to the Regional Council for the Welfare of Children (RCWC). The RCWC shall then assess, validate and declare eligible LGUs that will be endorsed to CWC to vie for the Seal.
The SCFLG is a commitment of the Department to ensure the progressive realization of children's rights through the mandatory audit of local government units (LGUs) in bringing positive results for children.
The SCFLG gauges the performance of LGUs through the Seal of Child- Friendly Local Governance Audit (SCFLGA) along 12 indicators. These indicators include: 1. Percentage reduction in the deaths of children below five (5) years old, 2. Percentage reduction in children under- six years old with below normal weights, 3. Percentage increase in the number of 3-4 year-old children attending center- based day care centers, 4. Completion rate of elementary schooling in 2015, 5. absence of child labor or reduction in child labor cases, 6. Safety measures for children in community and schools, 7. Extent of mainstreaming of children's rights to survival, development, protection and participation in the core development agenda of LGUs, 8. An ordinance establishing Barangay Violence Against Women and their Children Desk, 9. 2015 Philhealth accreditation in its main health facility or rural health unit for the Maternal Care Services and Primary Care, 10. 2015 Philhealth accreditation in its main health facility or rural health unit for the Maternal Care Services and Primary Care, 11. A Local School Board (LSB) Plan for CY 2015 that is aligned with the School Improvement Plan (SIP), and 12. Completed at least 70% of its LSB Plan for 2015.
SILG Sarmiento bids farewell to DILG R1 family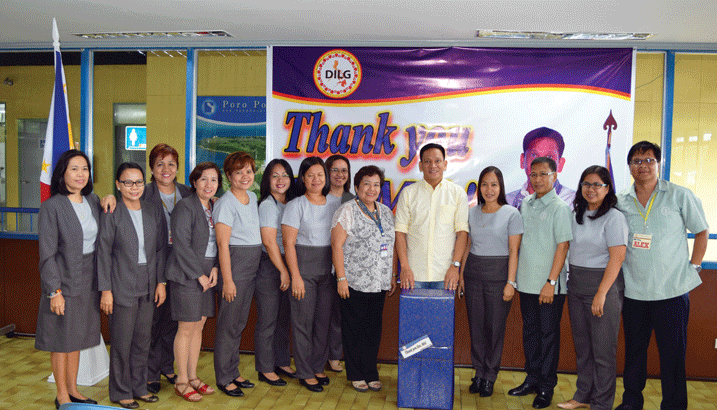 "It is hard to leave an organization which you have learned to love".
These were the words of Secretary of the Interior and Local Government (SILG) Mel Senen S. Sarmiento as he bade farewell to his Department of the Interior and Local Government Region 1 (DILG R1) family in an exit call attended by key personnel of the DILG R1, Philippine National Police (PNP), Bureau of Fire Protection (BFP), Bureau of Jail Management and Penology (BJMP), and the National Police Commission (NAPOLCOM) last June 2, 2016 at the Conference Room of the San Fernando City, La Union Airport.
The SILG requested the Exit Call to personally thank his DILG R1 family for the support they have given him. He acknowledged the dedication he witnessed from the DILG personnel and said that he is thankful for the opportunity given to him to serve as SILG even for such a short time.
"Maswerte ako na DILG ang napuntahan ko kasi dito ko nakita ang mga committed public servants", he said.
The SILG expressed his hopes that the programs and projects being implemented by the Department will be carried out by the administration of President Rodrigo Duterte. He cited, among others, the implementation of the Konkreto at Ayos na Lansangan at Daan Tungo sa Pangkalahatang Kaunlaran (KALSADA) and the Bottom- Up Budgeting (BuB) programs.
He also hopes that the incoming administration will continue projects which have been started or proposed for the coming years. These include review and completion of the Roadmaps for the BJMP and BFP, implementation of the Memorandum of Understanding (MOU) with the Commission on Higher Education (CHED) and the establishment of National Government Operation Centers in the local government units that would house national agencies.
He said that the MOU with CHED has three- fold objectives which are: 1) drafting of new curriculum for Criminology students which contain higher standards of discipline, 2) establishment of Disaster Risk Reduction and Management Institutes in State Universities where local officials may enrol, and 3) establishment of institutional arrangements that would allow the Department of Public Works and Highways (DPWH) to tap all 5th Year Civil Engineering students as partners in the design of projects and supervision of project implementation.
As for the Local Government Sector, the SILG said that the proposed DILG- owned National Government Operation Centers in the local government units was envisioned to house City / Municipal Local Government Operations Officers (C/MLGOOs) with staff support that would warrant the provision of Representation and Transportation Allowance (RATA) and Maintenance and other Operating Expenses (MOOE).
He said that the concept is to bring the national government closer to the local government units for convergence.
"Because at the end of the day, the public would not be able to decipher whether a project is from the local government or the national government", he said.
As a private citizen, the SILG intends to continue lobbying for a separate Procurement Law for uniformed personnel.
"We are used to buying the cheapest but the cheapest does not necessarily mean best buy. Just imagine kung bibilhan mo yung pulis ng baril, mura nga pero di naman pumuputok", SILG Sarmiento said.
He also commended the Philippine National Police for a very peaceful May 9 Elections.
"Sinasabi ko ito kasi I am the one being congratulated. Pero kayo naman talaga ang kumilos together with the AFP (Armed Forces of the Philippines)", he said.
The SILG conducted exit calls in all DILG Regional Offices and attached agencies to personally thank his DILG family.
"Hindi naman pwedeng di ako umikot kasi kumatok na ko sa bahay ninyo. Siguro naman, sa taong pinapasok sa bahay niya ay kailangan ding humingi ng permiso bago umalis at magpasalamat man lang. Kaya ko po ginagawa itong pagpapasalamat sa inyo."
The SILG recounted that prior to his being SILG, the DILG is an agency he has closely worked with as an elected official. He ended his exit call by saying, "I am going to miss my DILG family."
World Bank assesses BuB implementation of Bagulin, LU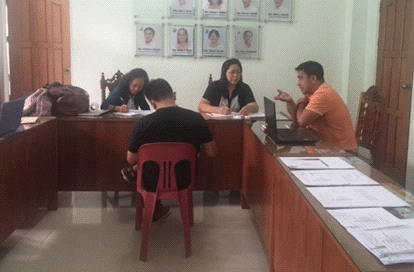 The World Bank, through the Orient Integrated Development Consultants, Inc (OIDCI), conducted a Qualitative Outcome Assessment of the Bottom- Up Budgeting (BuB) Implementation of Bagulin, La Union last June 8- 10, 2016.
The team of Engineer Evelyn Sagun, Maria Merla Aquino and Ivan Jim Layugan of OIDCI conducted document review on various issuances by the local government unit (LGU), minutes of Civil Society Organizations (CSO) Assembly meetings, Municipal Reduction Action Team (MPRAT) meetings, and Municipal Development Council meetings, among others.
An interview with Hon. Mayor Ferdinand D. Tumbaga was also conducted. The interview covers the different phases of program implementation from the LGU's accreditation / recognition of Civil Society Organizations (CSO), conduct of CSO assembly, MPRAT workshops and meetings, up to actual implementation of BuB projects.
Separate Focused Group Discussion (FGDs) were also conducted to groups of LGU-MPRAT members, CSO-MPRAT members, non-CSO / non-MPRAT members and project beneficiaries themselves.
A member of the Project Management Office represented by Dr. Czarina Saloma-Akpedonu, of Ateneo de Manila University, also joined the team on the second day to observe the assessment being conducted.
The team, accompanied by Engr. Louie B. Manzano of the LGU and OIC- MLOO Olivia Mae N. de Guzman of the DILG also visited a completed Local Access Road BuB project located in Sitio Pila, Brgy. Cambaly.
The OIDCI team concluded their visit with an exit conference which was presented to municipal officials. The team commented that the result of the interview and FGDs were consistent in terms of project identification, implementation and the over-all partnership of LGU and CSOs on BuB.
The Municipality of Bagulin is one of the BuB beneficiaries in Region I since its inception in 2013. The LGU is also a Kapit—Bisig Laban sa Kahirapan — Comprehensive and Integrated Delivery of Social Services (KALAHl-CDSS orKC) National Community—Driven Development Program (NCDDP) or KC-NCDDP area.
OIDCIis a Philippine-based consulting firm with a proven track record in integrated area development, environment and natural resource management, governance, and institutional development.
The Philippine government has requested the World Bank to undertake various analytical works to measure and analyze the extent of representation in decision- making process and assess beneficiaries' satisfaction over implemented projects.