SGLG implementation kicks off in R1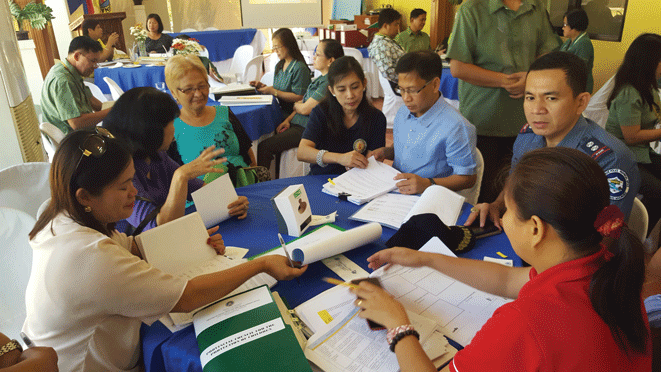 The implementation of the Seal of Good Local Governance (SGLG) in Region 1 kicked off with the conduct of the Regional Orientation on February 18, 2016 and Pre- Deployment and Planning Conference last February 29, 2016 at the Oasis Country Resort Hotel, City of San Fernando, La Union.
All City / Municipal Local Government Operations Officers (C/MLGOOs) of DILG R1 attended the Regional Orientation which was conducted alongside the Revisiting the Operation Listo on the same date. To ensure smooth and successful implementation of the FY 2016 SGLG, the DILG R1 also conducted the Pre- Deployment and Planning Conference which was attended by Provincial Directors, Provincial SGLG Focal Persons, members of the Regional Assessment Teams (RATs) and key personnel of the DILG Regional Office.
Likewise, the four (4) DILG Provincial Offices also conducted their respective SGLG Orientation attended by City / Municipal Local Government Operations Officers (C/MLGOOs) last March 2, 2016 for Ilocos Norte, Ilocos Sur, and Pangasinan and March 3, 2016 for La Union.
Per Memorandum from the Undersecretary of Local Government dated April 1, 2016, each RAT, composed of cross- posted DILG field personnel and representatives from civil society organizations (CSOs), were given until June 15 to complete the data gathering, regional validation and online data entry phases of the program.
The regional calibration, national assessment, final selection and indorsement of SGLG passers and announcement of results are expected to be accomplished until September 2016.
The 2016 SGLG assess the four (4) provinces, nine (9) cities, and 116 municipalities of the region in three (3) core areas and three (3) essential areas. The three (3) core areas are Financial Administration, Disaster Preparedness and Social Protection while the three (3) essential areas are Business- Friendliness and Competitiveness, Peace and Order and Environment Protection. It shall also recognize local government units (LGUs) which showed improvement and met the 2015 SGLG basic requirements. For region 1, 89 LGU non- passers shall be re-assessed to see if they have already met the 2015 SGLG minimum criteria.
The 2016 SGLG passers shall receive the 2016 SGLG marker while 2015 SGLG post compliance passers will receive a post compliance recognition marker. However, if an LGU belonging to the 2015 SGLG non- passer passed the 2016 SGLG, it shall only receive the 2016 marker.
The SGLG is an award and incentive program for performing LGUs. It continues to challenge all provinces, cities, and municipalities to improve their performance through its up-scaled criteria along the three (3) core areas and three (3) essential areas of assessment.