Pagudpud distributes Pre- Disaster equipment under BUB- DILG program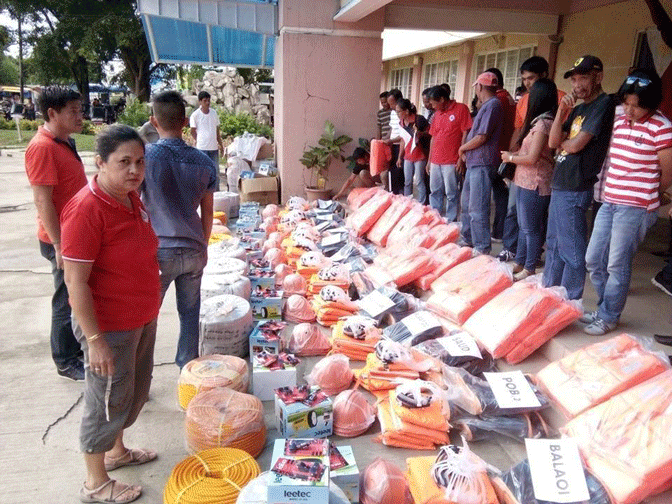 The Municipal Local Poverty Reduction Team (LPRAT) of Pagudpud, Ilocos Norte chaired by the Honorable Mayor Marlon Ferdinand T. Sales spearheaded the distribution of Pre-Disaster equipment funded under the FY 2015 Bottom- Up Budgeting (BuB) to all 16 barangays last August 12, 2016 at Pagudpud Municipal Hall, in the presence of Punong Barangays and some members of their councils.
The equipment is composed of life jackets, boots, raincoats, megaphones, chainsaws, and radios.
Pagudpud is a 4th class municipality and a disaster prone area which needs to be equipped with different disaster equipment. Coastal barangays are prone to storm surge and tsunami while remaining barangays are high risk to landslide and flashflood particularly barangays in the upland and barangays along rivers and creeks.
To ensure readiness and preparedness, the local government unit (LGU) acknowledged the support of the Department of the Interior and Local Government (DILG) and likewise provided assistance to its component barangays particularly on disaster mitigation and rehabilitation projects. The LGU strictly implements the Disaster Preparedness Manual of the "Operation Listo" in collaboration with the DILG Family – Philippine National Police (PNP), Bureau of Fire Protection (BFP) and the Municipal Local Government Operations Officer (MLGOO), other stationed Government Agencies, local officials and the community as a whole.
In compliance to RA 10121, the LGU guaranteed the Disaster Risk Reduction and Management Council's (DRRMC) functionality to all level by establishing the Municipal Disaster Risk Reduction Office (MDRRMO) manned by the newly appointed Disaster Officer, Mr. Hendrick U. Pedronan and some DRRMO staff who facilitated the distribution and documentation of BuB - Disaster Preparedness equipment to all barangay-recipients.