Paoay, Ilocos Norte undergoes LIIC training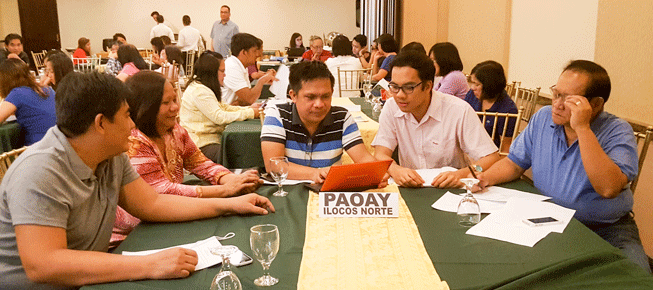 In line with the Department's mandate of enabling local government units (LGUs) to become business-friendly and competitive, the Municipality of Paoay, Ilocos Norte attended the Training on the Formulation of Local Investments and Incentives Code (LIIC) on July 26-28, 2016 at La Breza Hotel, Manila. The training was spearheaded by the Local Government Academy (LGA) through the Local Governance Support Program for Local Economic Development (LGSP-LED) Program.
The three-day capacity building program provided an opportunity for the LGU to draw LGU policies on investments, on prioritized sector in order to accelerate economic growth, provide employment opportunities, increase revenues and reduce poverty that will ultimately improve the quality of life of the people in a more proactive way.
The training adopted the "learning by doing" approach, wherein LGUs drafted their LIIC through the assistance of technical consultants. The drafted LIIC will then be presented by the LGU team participants to their respective Sanggunian for approval.
A pool of experts on local financial administration and management served as resource speakers and technical consultants during the training, namely: Lito Pardo, Maloy Malvar, Amado Jimenez, and Jun Sayson.
Only selected LGUs were invited by the LGA to participate in the training. Aside from Paoay, ten other LGUs across the nation attended, namely: Bacnotan, La Union; Sagada, Mountain Province; Tuba, Benguet; Balbalan, Kalinga; Basco, Batanes; Noveleta, Cavite; San Luis, Batangas; San Jose, Batangas; Balayan, Batangas; and San Nicolas, Batangas.
Participants of the training were composed of Mayors, Sangguniang Bayan Members, Planning and Development Coordinators, Local Economic and Investment Promotions Officers (LEIPO), Tourism Officers, Agricultural Officers, and the Municipal Local Government Operations Officers (MLGOO).
The LIIC is an enabling policy that articulates the local government investment policies and programs, Investments Priority Areas (IPAs), local incentives (fiscal or non-fiscal) available to domestic and foreign investors and the mechanics for availing them. It also serves as an instrument for attracting, retaining, expanding, and diversifying investments for the economic development of the LGUs.