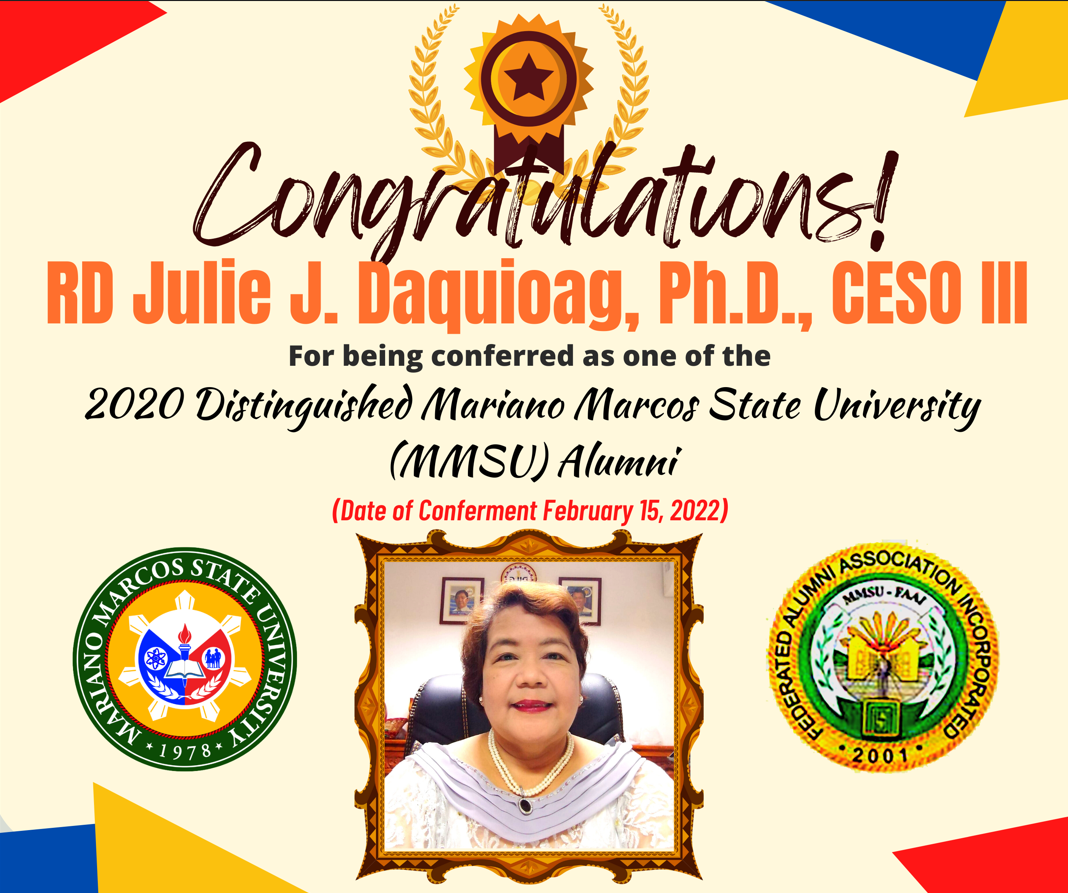 RD Julie, an exemplar and inspiration to MMSU and DILG
Embodying the core values of integrity, commitment, responsiveness, and excellence in public service has made DILG R1 Regional Director Julie J. Daquioag, Ph.D., CESO III as one of the 2020 Distinguished Alumn i of Mariano Marcos State University (MMSU).
RD Julie received the award during the MMSU's Pammigbig ken Pammadayaw Year III virtual ceremony on February 15, 2022 as part of the MMSU's 44th Foundation Anniversary. She was awarded along with the other eight (8) distinguished alumni who have brought great distinction to the University through their significant contributions to society and whose accomplishments, affiliations, and careers have honored its legacy of excellence.
RD Julie, who finished her doctorate degree in MMSU in 2001 is truly a living exemplar for demonstrating exceptional leadership as she led the dynamic DILG Regional Office 1 and 3 towards promoting excellence in local governance and enhancing service delivery for local government units to become transparent, socially-protective and resilient LGUs.
With her "get it first, get it fast, and get it right" mantra that she incessantly emphasizes to her fellow Matitino, Mahuhusay, and Maaasahang DILG personnel and her strength of spirit, manifested through her focused efforts to implement the programs, projects, and activities of the DILG has led to the attainment of unparalleled success for the organization.
The Alumni Award System is designed to recognize and celebrate the ideals of the University which are continually kept alive by those who have gone through the portals of the University. MMSU commits itself to the active promotion of this award in the hope that these outstanding Stallions may become living exemplars of the objectives of the University which will serve as inspiration to future alumni.
The nine (9) MMSU alumni awardees were subjected to the following general criteria: 50% excellence (demonstrating excellence in the degree pursued/chosen career; presents notable accomplishments and exemplary performance that has substantial impact in the lives of people; exhibits creative and innovative works; presents awards and commendations received); 20% Integrity (epitomizes moral uprightness; upholds dignity and prestige of the Alma Mater; maintains beneficial mutual relationship with Alma Mater; and strengthens the bond of brotherhood and goodwill among Alumni); and lastly, 30% Service (contributes to the attainment of the Vision and Mission of the Alma Mater; and works for the welfare of humanity).
Congratulations RD Julie! Truly, a living exemplar and inspiration to MMSU and DILG!
--LGOO II Jeslen B. Tesoro