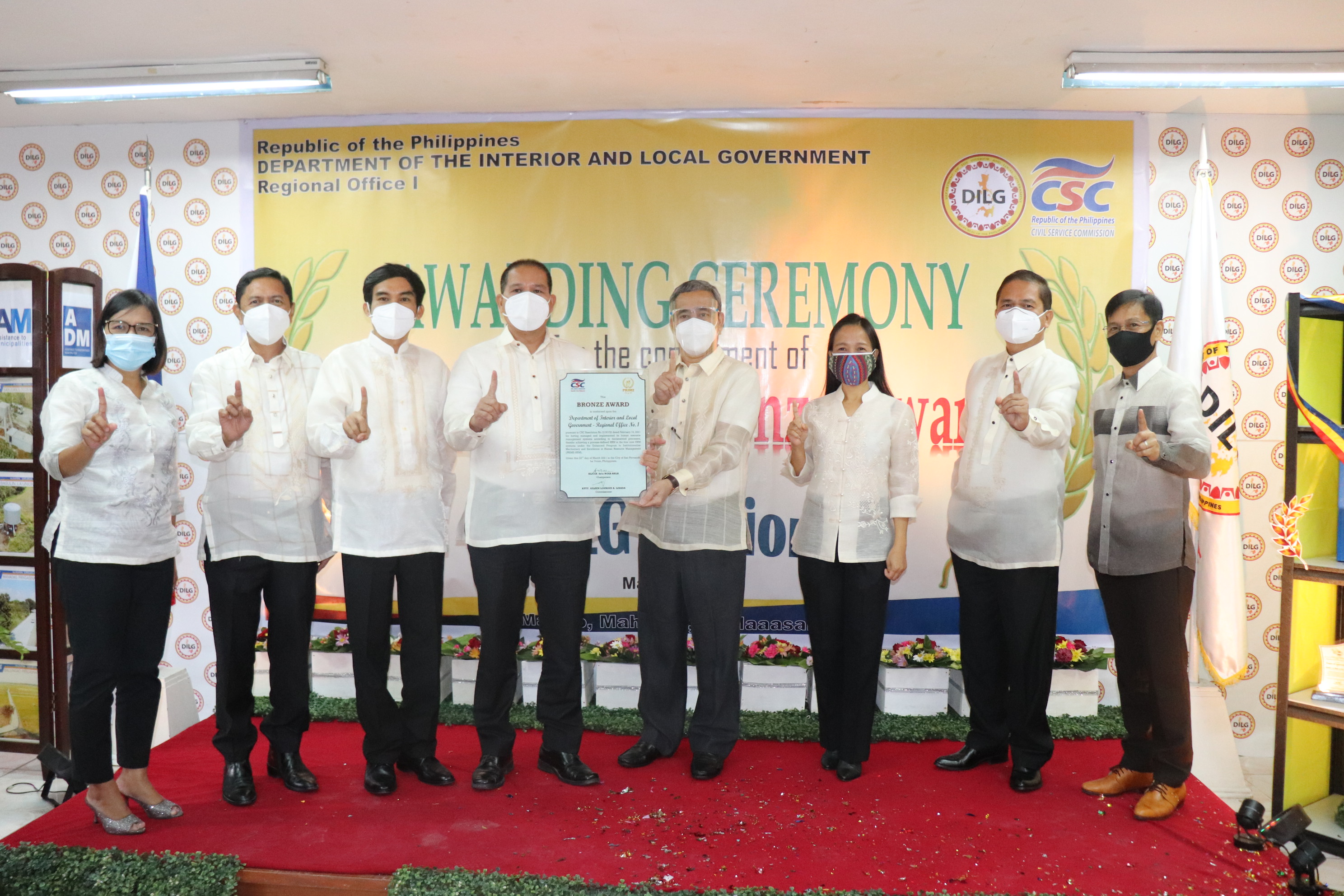 METAMORPHOSIS: HRM TRANSFORMATION OF DILG R1 TO EXCELLENCE
"We are so excited for this event, and we are very glad that finally we are now a PRIME-HRM Bronze Awardee."
Those were the opening words of Department of the Interior and Local Government Region 1 (DILG R1) Director James F. Fadrilan, CESO III during the Awarding Ceremony for the Conferment of PRIME-HRM Bronze Award to the DILG R1 at City of San Fernando La Union last March 22, 2021.
He also emphasized the role of the PRIME-HRM team in DILG R1 for the achievement of this new milestone for the Department.
"Our DILG PRIME-HRM Team is credible, accountable, highly visible, competent, committed, and spiritually endowed team that moves towards enhancing the image of public service and creating a significant difference in the lives of the people we are serving. This awarding ceremony is a testament of our vision."
The DILG R1 PRIME-HRM Journey
"The journey of DILG R1 towards PRIME-HRM Level II has gone through almost the same process with that of a metamorphosis of a butterfly… the transformation was gracefully undertaken," said CSC Region 1 Chief Human Resource Specialist Marina G. Cabañero during her sharing.
She added that just like a butterfly in its cocoon, the DILG R1 never became impatient nor have they attempted to shortcut the process. Instead, they were able to embrace or understand that step-by-step they would eventually get there, and like in a cocoon, wherein most of the HRM systems and practices are in a resting stage, the DILG R1, in its proper time has become a butterfly ready to emerge.
Meanwhile, DILG R1 Finance and Administrative Division (FAD) Chief Alicia C. Bang-oa, emphasized that the journey was overwhelming and intimidating because of the many requirements that needed to be accomplished and documented.
"It was not all smiles, it was sometimes not encouraging, and oftentimes frustrating. But having always motivated by the fact that ALL THINGS ARE DIFFICULT THE FIRST TIME and NOTHING IS IMPOSSIBLE FOR A DREAMER…we slowly and gradually and successfully made things possible," she said.
Conferment of the Award
The highlight of the event was the conferment of the PRIME-HRM Bronze Award. The Bronze Award signifies that based on the assessment of the Civil Service Commission (CSC) the Department has met the PRIME-HRM Maturity Level II indicators on the various human resource processes, practices, and competencies.
In his response, RD Fadrilan have shared how glad he is for this achievement and how grateful he is for the help that was extended by the CSC R1. He also thanked all the dedicated men and women of DILG R1 who have contributed and remained committed in accomplishing all the tasks. He even assured the CSC that DILG R1 will remain committed in implementing the PRIME-HRM to maintain meritocracy and excellence in public service to make the public happy, satisfied, and delighted.
"Ngayon ko lang nalaman na all of our effort started in 2018. That was one year after I took the helm of leading Region 1, and true enough one year after, Miles told me that we will now start PRIME-HRM. This will be one of the few legacies that I will leave Region 1 before I finally bow out of service." he added.
He then ended his speech by posing a challenge to the officials of Region 1 to achieve the next maturity level of PRIME-HRM. "Achieve the Silver Award or the Level III of PRIME-HRM by. Do not forget our motivation of consistently doing our best to be counted as one of the top performing regions of the Department", he said.
On the other hand, CSC Regional Director Hedy Jose R. Lardizabal shared how happy he is for DILG R1 and commended the efforts of each and every personnel of the Department.
"To RD James and ARD Agnes together with the magigiting na provincial directors and division chiefs and to the rest who really shared their talents, efforts, and everything in order to achieve this feat, saludo po kami sa inyo. Talagang matino, mahusay, at maaasahan na serbisyo. Indeed, this is your moment," he said.
"Everyone, even us, we were not excused from the experience of being overwhelmed by the many things that we need to go through, but at the end of the day we will be able to realize, that all of these are part of the continual improvement of our services… also, our journey doesn't end here, rather it has proven that we can do things as long as we unite our efforts… This awarding ceremony is now the manifestation of the coordinated, collaborative, and well-defined joining of our minds and hearts. Let us not forget that this is not just for us but for the whole public service instead," he added.
He then finished his message by saying that the CSC R1 shares in the collective recognition that every national government agency (NGA) and local government unit (LGU) in the region receives. For whenever these NGAs and LGUs give their best, the CSC R1 also reap the best.
The ceremony was formally closed by DILG R1 Officer-In-Charge Assistant Regional Director
Agnes A. De Leon, CESO V.
"Walang hanggang pasasalamat sa CSC and siyempre sa ating Regional Director sa guidance sa aming pinagdaanan at mga ginawa, sa ating mga Provincial Director na kasamang nagreview sa mga ginawa ng ating mga TWG, at sa ating mga Division Chief na kasama rin namin headed by the FAD Chief Engr. Alicia C. Bang-oa as the lead dahil nasa kanila ang bulk ng work to make DILG R1 PRIMED… Walang mahirap dahil sama-sama tayong lahat," she said.
"I hope we can live up to the brand of our Department which is to remain Matino, Mahusay, at Maasahang kawani," she added.
The event was attended by the DILG R1 officers and employees headed by RD James F. Fadrilan,
CESO III; graced by CSC R1 guests and representatives headed by RD Hedy Jose R. Lardizabal; and was witnessed by provincial and field officers through online platforms.
(LGOO II Bernard Victor S. Ringor and AO V Mildred M. Malapit)