Dumalneg bags Presidential Award for Child-Friendly Municipality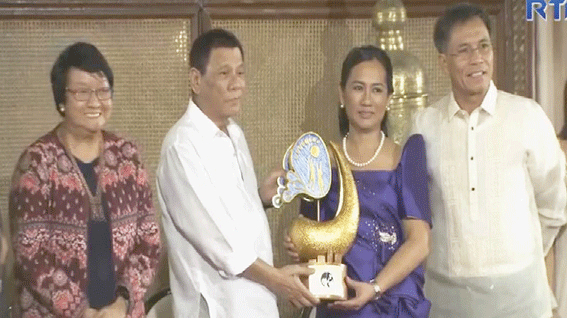 The Municipality of Dumalneg, Ilocos Norte bagged the 2015 Presidential Award for Child-Friendly Municipality under the 4th-6th Income Class Category.
No other than President Rodrigo R. Duterte conferred the award to the Municipal Government, represented by its Local Chief Executive, Mayor Lairvee G. Espiritu, during the Awarding Ceremony at the Malacañang Palace last September 26, 2016. Dumalneg is one of the local government units (LGUs) conferred with the Seal of Child-Friendly Local Governance (SCFLG).
It is an indigenous town in the Province of Ilocos Norte known for its comprehensive and inclusive services to ensure holistic development of children. Its innovative services include the
Tawid: Transfer of Culture Program that fosters continuity of tribal customs and traditions; Panagitugit / Panagmula which is a tree planting activity participated by students and pupils
during Watershed Day; Sagot, a cash award given to deserving students during graduation day; and the Umnanga Timbang which aims to combat malnutrition in the locality.
The Presidential Award for Child-Friendly Municipalities and Cities was institutionalized in 1999 through Executive Order No. 184 and initiated by the Council for the Welfare of Children (CWC).
It seeks to gauge the level of child-friendliness of LGUs and recognize LGUs that put a premium on child-friendly governance initiatives. The five categories of the Presidential Award are: 1st- 3rd Class Municipality, 4th- 6th Class Municipality, Component City, Independent Component City and Highly Urbanized City.
In coming up with the National Awardees, the CWC shortlists and validates conferees of the SCFLG. The other SCFLG-awardee which was shortlisted by the CWC for the Presidential Award was Dagupan City for Independent Component City. Dumalneg received a trophy and a cash award of Php500,000.00 while Dagupan City received a plaque of recognition and a cash award of Php50,000.00.
(LGOO V Sheila Marie G. Andales with reports from LGMED)