Bacnotan conducts People's Caravan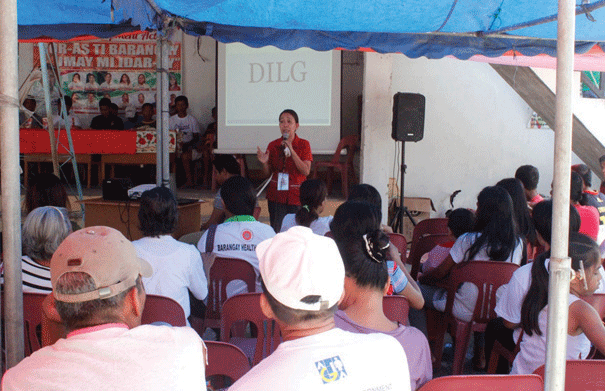 The Municipality of Bacnotan conducted a People's Caravan to all the 47 Barangays named as Dur-as Ti Barangay, Umay Mi Idar-ay.
The objective of the Caravan was to inform the people about the programs, projects and activities of the Local Government Unit (LGU) and National Government Agencies namely the Department of the Interior and Local Government (DILG), Philippine National Police (PNP), Bureau of Fire Protection (BFP) and Department of Social Welfare and Development (DSWD).
Part of the Caravan was to bring the services to the Barangay. These include health & social services, validation of projects, mobile registration, tax collection, and dialogue with members of the Barangay Development Council. It also served as an avenue for a more participative people involvement in the plans and programs of the local government and national government agencies.
MLGOO V Maria Gracia D. Dela Cruz of the DILG took the opportunity in informing the Barangay of the programs, projects and activities of the Department. One of which is the BUB or the Bottom-Up Budgetting. The Barangay were informed of the Process of the BUB, Projects Identified and status of implementation of these projects. The people were also informed of the expansion of Bottom-up Budgeting (BuB) to the barangays.