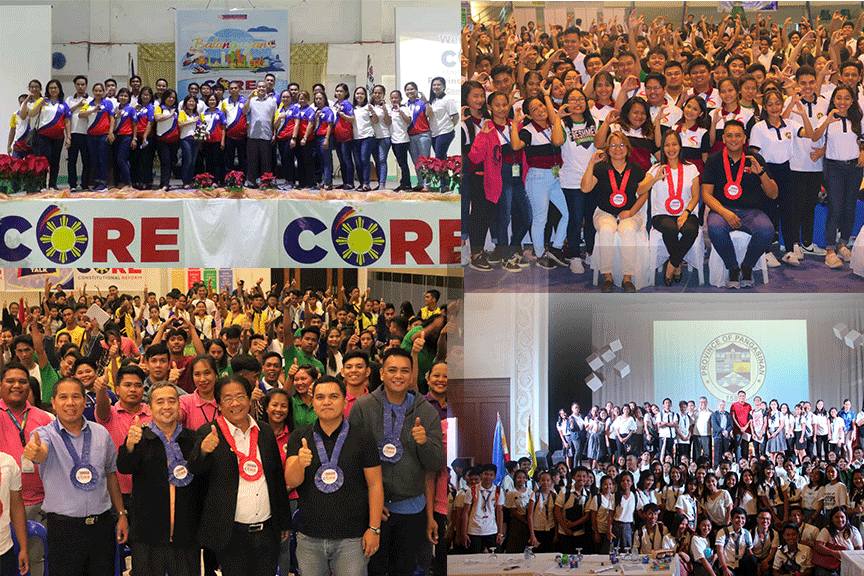 Balangayan Constitutional Reform Provincial Roadshow
The Department of the Interior and Local Government Region 1 (DILG R1), together with the Center for Federalism and Constitutional Reform – Project Management Office (CFCR-PMO), Philippine Information Agency (PIA), National Government Agencies (NGAs), Civil Society Organizations (CSOs), and other stakeholders conducted a "balangayan" activity, dubbed as Constitutional Reform (CoRe) Provincial Roadshow, to advocate the importance of effecting surgical amendments to the 1987 Constitution.
It was attended by more than 8,000 participants from the local government units (LGUs), business sector, religious groups, academe, and ordinary citizens, among others.
The CFCR-PMO, who served as the resource speakers, was composed of Secretary Gary B. Olivar, Professor Eric Daniel C. De Torres, and Professor Jose Ramon C. Casiple.
The CoRe Roadshow, divided into three components – Media Forum, Townhall Meeting, and Convention Rally and CoRe Talk, was conducted in the four (4) provinces to elicit massive public support. (as shown in Figure 1)
The Media Forum provided the venue for discussion among the CFCR, media, elected officials, and LGU leagues such as the Philippine Councilors League (PCL). Issues and concerns on the difference between Federalism and Constitutional Reform, and their pros and cons were addressed. The media served as a force multiplier in the campaign to strengthen the national discourse on CoRe.
The Townhall Meeting operated as a gathering for various stakeholders where updates and accomplishments on the CoRe advocacy campaign were reported by the CFCR. The four pillar-message house composed of (1) Pagyamanin ang Probinsya, Paluwagin ang Metro Manila; (2) Gobyerno para sa Tao, Hindi para sa Trapo; (3) Bukas na ekonomiya nang lahat ay may pag-asa; and (4) Bagong konstitusyon para sa bagong henerasyon were also explained for the participants to have a better appreciation of its relevance.
The Convention Rally and CoRe Talk catered to the questioning minds of elected officials, CSOs, academe, barangays and the youth. The CFCR emphasized on the message, "Baguhin ang lumang Sistema! Isulong and bagong konstitusyon!" They clarified that the drive to modify the Constitution means adapting to and addressing the ideals and needs of the youth and the future generations. They also stressed that CoRe will eliminate the development restrictions provided for in the present Constitution. This stirred the interest of the participants as manifested in a very dynamic open forum.
What happens today affects the future. The CoRe Provincial Roadshows work as a strong foundation. Expect that the DILG R1's campaign for people awareness, involvement, and readiness to accept change will only intensify.
(LGOO IV Rhealiza A. Delos Santos & CFCR-RPO Willy D. De Vera)